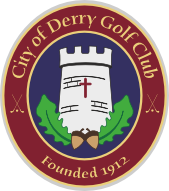 Christopher Love (12) took the honours in the weekly Thursday Open at City of Derry Golf Club with a well compiled 41 points, a first nine of 23 points giving him a great start to his winning performance.
Gareth Reid (11) needed a favourable tie break to help him into second place with 40 points,  22 of them coming over the vital back nine.
Ian Jarvis (20) was well on his way to ultimate victory with only three holes left but five  dropped shots over those holes meant he had to settle for third place on his 40 points.
Christopher Long (3) was the winner of the gross prize i with 35 gross points.
Foyle Golf Club member Vinnie Brady (12) made his trip to Prehen very worthwhile in taking the visitors prize with 35 points.
The Thursday Opens continue right through until October and visitors are more than welcome.
Tags: