It's Never been better Value to Tie the Knot at The Mount Errigal Hotel, with prices from just £34* per person!
The Mount Errigal Hotel, Letterkenny County Donegal has seen a huge influx of weddings booked from across the border due to the recent increase in strength from sterling to euro.
Guests paying in sterling have seen a saving of up to £4 sterling per guest, based on the hotel's average wedding being 300 guests, this is equivalent to £1200!
The Sterling strength against the Euro has been on an upward trend with many experts claiming that this is set to remain strong and even continue!
For Example, the 'Classic' Wedding Package which is €43.50 per person, this is equivalent to approximately £34.42 at today's exchange rate, which makes for excellent value considering that it includes
* Dream set up of White Linen Chair Cover & Coordinating Bow, White Linen Table Clothes, and Napkins & Vintage Table Centres. Red Carpet, Lantern Lit Champagne Reception for Bride & Groom
* Arrival Tea/Coffee & American Style Cookies for your guests, with a Champagne Reception for the Bride & Groom
* Wedding Meal – 5 Courses for all Guests with a choice on each course and a menu designed by the Bride & Groom at the Wedding meal Tasting with Chef
Wine – 2 Glasses for all Guests
* Evening Buffet for all guests
* Luxurious Stay in the Honeymoon Suite for Bride & Groom
* Morning after, private breakfast for your guests at 10.30am
The Mount Errigal Hotel Letterkenny, County Donegal is the finest wedding venue in the North West of Ireland, from your initial visit to the magic of your special day; you can take great confidence in their experience.
The magnificent ballrooms are steeped in rich character but still versatile, allowing each wedding to be unique, your day will be memorable with a guarantee of 1 wedding per day and a choice of ballroom up until a few weeks prior to your wedding day.
The Glenveagh Ballroom boasts an exquisite stained glass roof and an impressive multi glass feature behind the top table.
The Great Room ballroom is equally beautiful with modern mood light chandeliers & original, rustic, natural ceiling beams with its own private terrace & entrance. Both rooms have fantastic dance floors and the bars are in the room. Civil & Marriage Blessings are also catered for.
Visit www.mounterrigal.com for full details on the new Classic, Couture & Vintage Wedding Packages.
To book a viewing today, call us on 00353 749122700 or email info@mounterrigal.com
*Exchange rates quoted are based on today's (30.07.14) approximate exchange rate. Each wedding price will be quoted in Euro. A fixed exchange rate can be negotiated on sterling cash with the option to pay in Sterling or Euro when the wedding bill payment is required. Payment made by debit or credit card will be at your bank's own exchange rate.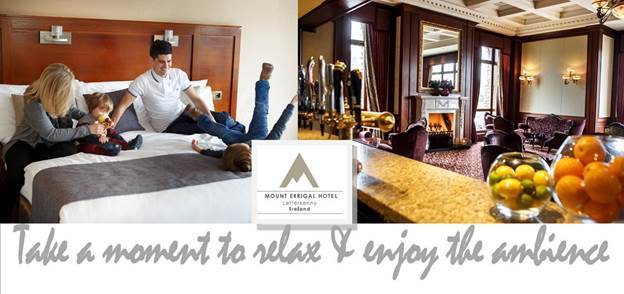 Tags: