The Irish Government was tonight called on to remove the Israeli Ambassador from Dublin
The call came from Foyle Sinn Fein MLA Raymond McCartney who was speaking at a rally held in Derry held to show solidarity to the people of Palestine.
Earlier, around 1,000 people paraded from Free Derry Wall, up Fahan Street, along Butcher Street and down Shipquay Street in protest march organised by Ogra Shinn Fein.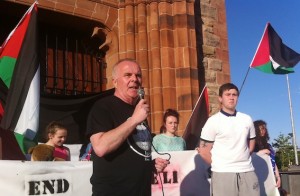 Speaking at the rally, Mr McCartney told those present the demonstration had been organised to show the people of Palestine and Gaza they were "not alone" and called on the Irish Government to remove the Israeli Ambassador from Dublin as a show of support to the Palestinians.
Among those who took part in the demonstration was Deputy First Minister Martin McGuinness and a number of local youngsters carrying toys with messages of support for Palestinian children which they laid at a memorial embedded on Derry's Walls to those  who have lost their lives as a result of conflict in the city and district.
Meanwhile, earlier today, the DUP in the city refused to back a motion put before Derry City Council  calling for peace in the war-torn region of Gaza.
In his motion at the local authority's monthly meeting, Sinn Fein Cllr Colly Kelly called on all parties  to "condemn in the strongest possible terms the appalling loss of life in Gaza."
He also requested  council call on both the "international community,He also requested that council call on both the 'international community, including the Irish and British governments, the EU and the UN' to do all within their power to help bring about a ceasefire in the region, and set up a body to monitor a ceasefire.
Cllr Kelly accepted an amendment to the motion by SDLP Cllr Martin Reilly calling for additional humanitarian aid, which was accepted by Cllr Kelly.
However, DUP Alderman Maurice Devenney said he could not support the motion in its current form, as it was "one-sided" and said that there had been loss of life on "both sides."
He added that while he agreed "steps had to be taken on both sides."  there had terrorist attacks carried out on Israel.
The motion was then passed.
A moment of silence was observed by all present following a proposal by SDLP Cllr Eamon McCauley.
Tags: