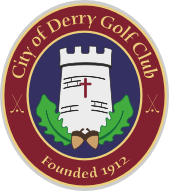 City of Derry has named the team that will represent the club in the GUI Junior Foursomes at the end of this month.
Lee Mc Clelland, Ross Hunter, Aaron King and Adam Monaghan will tee off for the Prehen club at Bangor Golf Club on Monday, 28 July. .
They are asked to be in the car park at Prehen at 8.30am.
Meanwhile, Mrs. Marie Cliffords Lady Captain's Prize for Juniors will take place on Wednesday, 23 July next.
Prizes will be presented the following Friday, 25 July, at 9.30pm, winners must attend.
Tags: