Ulster rugby stars, Neil McComb, Bronson Ross and Kyle McCall, called in to the Centra Ulster Rugby Summer Camp at City of Derry to give hints and tips to the budding young players attending event.
One lucky player, nine-year-old Sean McLaughlin, from Buncrana, received a special certificate in recognition of his playing skills.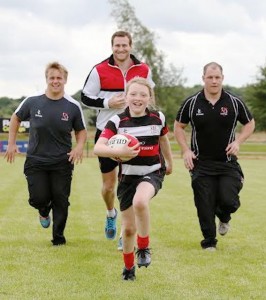 Sean joined other local boys and girls at the five day camp to learn new skills and meet the visiting rugby heroes.
All participants received a Summer Camp boot bag with T-shirt, rugby ball and a voucher to claim a free ticket to an Ulster Game at Ravenhill.
Ulster Rugby Summer Camps, sponsored by independent retail group Centra, are taking place at 22 locations this summer and will cater for more than 1,000 children.
While most of the Summer Camps are for children aged six-12, there are three camps tailored specially for girls' rugby, a special needs camp and the ever popular Senior Camp aimed at boys and girls aged 13-17 years old.
Tags: