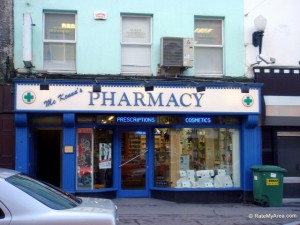 Two 41-year-old drug addicts, with almost 200 criminal convictions between them, have been jailed for a total of three years at Derry Crown for the armed robbery of a well-known city pharmacy.
Anthony David Comiskey (41), of Chamberlain Street and Elaine Bradley, from Altcar Park in the Galliagh area of the city, admitted robbing McKenna's chemist shop in Great James of prescription medication.
Both also admitted having offensive weapons – Comiskey a six inch black-handled knife and Bradley a hammer – to commit the robbery.
Prosecutor Russell Connell told the court the pair entered the pharmacy at around 5.00pm on 10 January this year and that Comiskey, who was not masked, produced a knife and grabbed a number of prescription drugs before ordering staff to hand him over morphine-related drugs which and been locked in the safe.
Mr Connell said Bradley, who was wearing a balaclava and who had been in the pharmacy a short time earlier to pick up prescribed medication, was recognised by a female member of staff.
Mr Connell said the staff member pulled the balaclava off Bradley, stating: "I know you. What do you think you are doing?"
Both accused then left the shop and ran off in different directions.
Mr Connell told the court the staff member chased after Bradley and after she caught up with her and they had both fallen to the ground, the accused produced a hammer.
The staff member then returned to the shop.
The court was told both were arrested some time later at different locations, Comiskey with the help of members of the public.
Mr Connell said during police interviews both admitted they carried out the robbery to obtain drugs and were not after money.
The court was told both accused had lengthy criminal records with Comiskey having 72 previous offences, including five for burglary, five for handling stolen goods, 10 for theft, one for deception, one of threatening to kill.
Bradley had a total 0f 126 offences, including five for deception, two for handling stolen goods, eight for theft and one for possessing an offensive weapon.
Mr Connell told the court she was in breach of several suspended sentences.
Passing sentence, Judge Phillip Babington said the incident was a "frightening" one for the staff who he commended, along with members of the public, for their part in the arrest of the pair.
Comiskey was given a three year jail term, 18 months of which will be spent in custody the remainder of licence.
Bradley was also jailed for three years and given an additional four months for breaching suspended sentences.
She will serve 20 months in jail and 20 months on licence.
Tags: