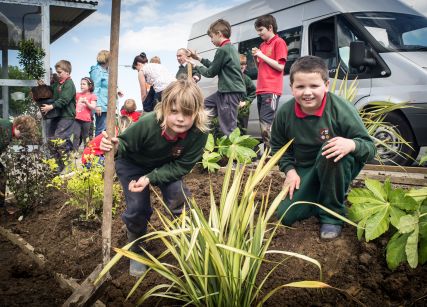 A group of Co Derry school children are helping their community get ready for the Northern Ireland Housing Executive's "Best Kept" competition.
Green fingered pupils in Magilligan took time out of their busy school day this week to help HE  plant flowers on one of our estates.
The pupils from St Aidan's Primary School, Aughil, lent a helping hand at Oughtymoyle Avenue to get it ready for the upcoming NI Amenity Council's Best Kept Housing Area awards.
Karen Young, HE Neighbourhood officer, said: "It was great to see the enthusiasm of the kids and their eagerness to help out. An added bonus was the number of residents who came out from the neighbouring houses to thank the children, and who were full of praise for their hard work."
Stephen Proctor, Grounds Supervisor, said: "It's great to give the kids the opportunity to make a positive difference; projects like this give them real ownership of their community and show them the positive contribution they can make."
Tags: