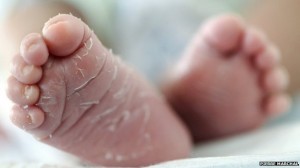 The number of births to teenage mothers fell last year to less than 1,000, the lowest number on record for the North.
The finding is contained in provisional 2013 birth statistics released today by the Northern Ireland Statistics and Research Agency (NISRA).
In total, there were 24,300 live births registered in 2013.
This is 1,000 less than 2012, when there were 25,300 births registered.
The key findings are:
• the number of births to teenage mothers reached a record low. In 2013 there were 940 births to teenage mothers registered – the lowest number on record;
in contrast, over half of all births were to mothers aged 30 or over (53% or 13,000 births);
• just over 10% of births were to mothers born outside Britain and Ireland (just under 2,500 births) – the highest percentage on record. Sixteen years ago this percentage stood at just over 2% (550 births out of 24,100);
• just under 60% of births occurred in three hospitals – the Royal Maternity Hospital in Belfast, the Ulster Hospital Dundonald and Craigavon Area Hospital.
David Marshall, from NISRA,  said: "The number of births fell last year, with births to younger mothers, especially teenage mothers, falling sharply. These demographic changes impact on society and will influence public policy."
Tags: