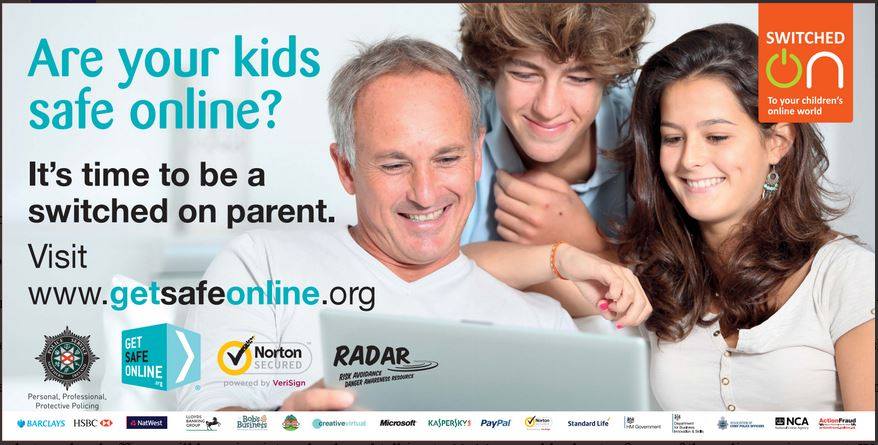 Parents are being urged to make sure they know enough about the internet and social media to keep their children safe online.
An advertising and awareness campaign has been launched on radio with billboards to follow encouraging parents to get "Switched On."
The campaign comes as the Police Service of Northern Ireland released provisional figures for the number of cyber enabled offences recorded in the past seven months.
Between 1 October 2013 and 25 April last, police  recorded 429 offences committed in full or in part through a computer, computer network or other computer-enabled device.
The two largest offences were harassment (176) and fraud (113).
There were 45 incidents of a sexual nature, 32 threats to kill and seven reports of blackmail.
A breakdown of the victim profile shows 78 were aged between 10-19, 113 aged between 20-29 and 71 aged between 30-39.
To date, 31 offenders have been detected and dealt with either by way of charge, summons, caution or discretionary disposal.
Research by communications regulator Ofcom last year indicated that around half of parents of five to 15-year-olds felt their child knew more about the internet than they did.
The research suggests parents need continuing support to build their own skills and confidence because of the fast pace of technological change and the ease with which children can embrace and explore new technology.
To help parents stay up to date, the Police Service of Northern Ireland has teamed up with non-profit awareness organisation Get Safe Online, internet security company Norton by Symantec, the Organised Crime Task Force and the safety and life skills education centre RADAR.
The PSNI lead officer for cyber investigations in Organised Crime Branch, Detective Chief Inspector Douglas Grant, said: "The internet is a fantastic resource for learning, communicating and entertainment but, on the down side, it also provides opportunities for some individuals or groups to harm or abuse people, particularly young people.
"We are concerned about the number of younger victims in the provisional figures we have released. As one element of our response, we are starting this awareness campaign to make sure parents have the knowledge and skills to protect their children online.
"The best place to access useful information is online at www.GetSafeOnline.org but our local officers will be going into schools and talking to 11-14-year-olds about safe use of the online environment.
"We will be providing basic material to encourage parents and children to become aware of the risks and do something about it together, what we call getting Switched On.
"At the same time, detectives will be investigating all reports of cyber enabled crime which are reported to police."
Tags: