Derry brides and brides-to-be are once again being called on to don their gowns to beat their world record they set last year.
Last year, 748 brides – with a few men thrown in – pulled on wedding dresses and walked across the city's Peace Bridge in aid of the Foyle Hospice, and in doing so entered the Guinness Book of Records.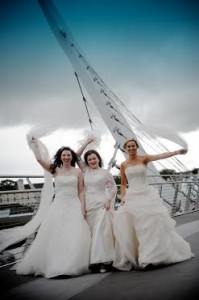 Now, the organisers are hoping to beat that achievement with another "Brides Across the Bridge" to take place on Saturday, 5 July, with the Hospice once again the main benefactor.
This event was created by a group of local woman in memory of a beloved husband who passed away in 2012 but had benefited from the services provided by Foyle Hospice throughout his illness.
"Brides," both female and female, are asked to pay £10.
Speaking at the launch, Rachel Bruce, fundraiser, said they were overwhelmed with the support from participants, supporters, onlookers and everyone involved in last year's event.
She added: "This was a highlight for Foyle Hospice and the city in a year of celebrations.
"We are thoroughly grateful to all support received from local businesses last year and a special mention of thanks to the Police Service of Northern Ireland for the assistance in the lead up to Brides Across The Bridge 2013 and on the day itself ensuring the success of the event."
Register now online at www.foylehospice.com or visit:
• Foyle Hospice Fundraising Centre, Culmore Road
• Foyle Hospice Shop, Waterloo Place
• Sarah's Shoes, Carlisle Road and Main Street, Ballymoney
• Beautiful Day Bridal, Greysteel.
Tags: