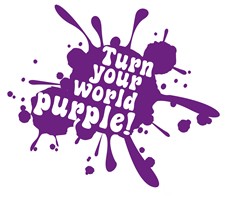 Derry City Council has been called on to turn the city purple to help raise epilepsy awareness.
National Epilepsy Week will take place from 18 to 24 May next and the Foyle branch of Epilepsy Action, along with PACE, is staging a number of initiatives, including turning the city purple.
There are no figures available for the number of children with epilepsy in Northern Ireland but Keith Cradden, of the Foyle branch of Epilepsy Action, estimates there are up to 300 youngsters with the condition in the Western Health Trust area.
He revealed Derry City Council has been asked to use purple lighting where possible on "variable" lighting displays in the Council area to raise awareness of the condition.
He added: "Both adults and children with epilepsy suffer stigmatisation and general lack of understanding of the condition.
"It remains an unfashionable and under resourced area of medicine
"The joint Epilepsy Council estimates that 70% of those with epilepsy can be seizure free but the current rate is about 50%. Epilepsy and PACE wil be campaigning for increased resources for epilepsy suffers."
He concluded: "Purple Day gives us an opportunity to think about this condition and how epilepsy suffers can be better supported
Over 50 million people worldwide live with the condition with over 600,000 sufferers in  Britain.
On average, 87 people are diagnosed each day and it is estimated that one in 100 worldwide have epilepsy.
In the Northern ireland Region figures are not readily available but the local Parent Action group fro Children with Epilepsy estimate between 200 and 300 children in the Trust area have the condition.
Purple Day is a initiative started by a young epilepsy sufferer Cassidy Megan in Novia Scotia with a view to raising awareness and dispelling myths associated with epilepsy.
The Foyle branch of Epilepsy Action along with PACE hope to develop a series of initiatives leading up to National Epilepsy Week.
Tags: