An RAF recruitment billboard which caused anger after it was erected in the  Brandywell of Derry has been removed.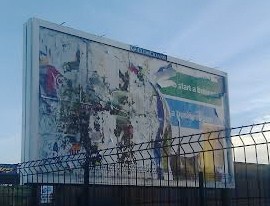 The "RAF Reserves" hoarding was taken down within 24 hours of it being put up after SDLP candidate Emmet Doyle contacted those responsible.
Mr Doyle, who will is seeking election in the Moor ward, said he had been inundated by angry residents who were `'disgusted" by the advertisement, especially being so close to the anniversary of the Bloody Sunday killings by British troops.
Mr Doyle said: "A number of people have been in touch to say how disgusted they are, and how they find the poster deeply offensive, especially given the time of year in the lead up to the anniversary of Bloody Sunday.
"I contacted those responsible for erecting the poster, which I understand was put up in the last 24 hours. I asked for it to be removed immediately and I have been told it will be taken down by the end of the day. I hope such an occurrence never happens again."
Mr Doyle concluded: "Lessons must be learned that these sort of posters can cause a lot of hurt and distress in the local area."
Tags: