Funding totalling £51,404 has been awarded to Liberty Consortium to manage a Derry playtrail over the next 18 months.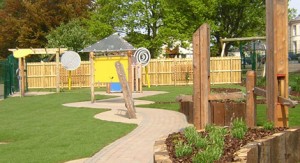 The playtrail is a community focused outdoor play and educational facility located within the grounds of two special schools -Belmont House and Foyle View.
Liberty Consortium was set up in October 2002 to manage the play and educational facility for children and young people of all abilities. The Playtrail is accessed by local schools, community groups and local residents.
The funding, announced by Social Development Minister Nelson McCausland, will allow the Director to maintain service delivery and develop services to ensure sustainability and growth within the organisation.
It will also help to strengthen the broader community infrastructure within Outer North Neighbourhood Renewal Area, and promote environmental regeneration through the development of the facility as a wider community resource.
Announcing the funding Mr McCausland said: "The Playtrail delivers an invaluable service to the people of the Outer North Neighbourhood Renewal Area. This funding will allow its Director to continue to develop the services it provides.
"This investment of £51,404 illustrates my continued commitment to the future of the area. This new funding will support the work of Liberty Consortium, allowing them to expand and create employment opportunities."
Welcoming the funding, the Playtrail Director Mark Roberts said: "Liberty Consortium is delighted with this announcement of additional funding which will allow the organisation to ensure its on-going sustainability and continued strategic development."
Tags: