It is that time of year again when we get ready to welcome all things scary and sinister to city for the Banks of the Foyle Halloween Festival.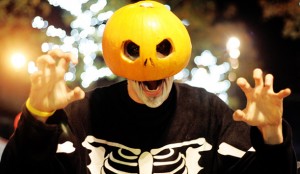 Organisers Derry City Council and the North West Carnival Initiative are inviting interested performers, arts and community groups, schools, youth groups, students, individuals and artists to participate in the "Carnival of the Lost Souls" annual parade.
The city's Mayor Martin Reilly has urged all artists to get involved with the creative curator who has been employed to help develop an artistic vision for this year's Halloween parade.
Mayor Reilly said: "The central objective of North West Carnival Initiative is to promote and encourage participation in quality, carnival based activity that is inclusive to all communities within the North West area. Over the past number of years there has been great input by groups not just from throughout the entire council area but from across the North West. Participants will learn new skills and with audiences of over 15,000 people, get the chance show off their creativity and have the chance of being part of what promises to be in our year as City of Culture, an amazing visual spectacle"
Sharon Meenan, North West Carnival Initiative officer said: "We are extremely excited about the scope with the 'Lost Souls' theme this year, there will be a huge amount of support offered to working groups who come on board."
She said trained artists and facilitators would work with groups to incorporate their ideas and produce pageant pieces which reflect the group's creativity and identity within the overall vision.
She added: "Participants always put in an awful lot of time and energy and have pulled out all the stops in recent years. We hope that this year will be even bigger and better and we are keen to facilitate as many groups as possible to take part."
The Banks of the Foyle Halloween Carnival parade will be part of a week-long programme of events that promises to be as spectacular as ever, with everything from shapeshifters prowling the city to creepy tall ship tours, treasure haunts, a freaky circus and ghostly goings-on galore to keep you and the entire family entertained.
If you would like you and/or your community to participate or require further information on available suppor, contact North West Carnival Initiative on 028 71 365151 (extension 6931) or by e-mail: sharon.meenan@derrycity.gov.uk.
The carnival parade is kindly supported by Derry City Council (DCC), Arts Council Northern Ireland and Culture for All and delivered by DCC and North West Carnival Initiative.
Tags: