Sein Fein has launched its party's campaign to have Republic's Seanad abolished.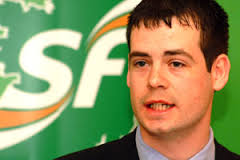 Speaking at the launch in Dublin this morning, the party's Donegal South  West TD Deputy Pearse Doherty said "fairness, democracy and equality of citizenship demand that the current Seanad be abolished."
Voters in the South go the polls on 4 October next in a referendum being held on the matter Deputy Doherty added:
"The cronyism and the elitism that are synonymous with the Seanad has fostered the type of politics that has brought this state to its knees."
He said in the last two-and-a-half years, the Seanad had supported the government "on every single occasion," including the introduction of the property tax, cuts to disability payments and the promissory note deal, which costing the tax payer €30 billion.
"The Seanad has promoted political cronies and allies rather than ideas or visions. And Fianna Fáil, who now seek to preserve the Seanad, is the party which has done the most to reinforce the perception of the Seanad as a hot house of cronyism.
"The system of Taoiseach's nominees, in particular during the Bertie Ahern era. was used to promote close political allies and cronies rather than doing anything to bring more diversity into the political system.
Tags: