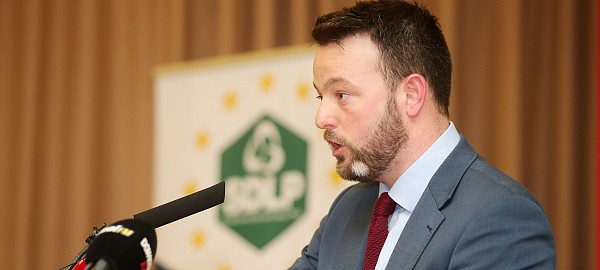 SDLP leader Colum Eastwood has said his gay brother no longer feels welcome in Northern Ireland as he is not treated as a "full citizen".
He said his younger brother Liam, who has moved to London, was denied the same rights as him, because of the actions of the DUP.
"This isn't about me and my brother, there are many, many, people in the community who feel like that," he said.
"If people who love each other still aren't entitled to get married, that's a disgrace and has to stop and there is a simple way of fixing it."
Mr Eastwood said his bother Liam "thinks this place doesn't welcome him, doesn't treat him as a full citizen" and he "finds that very difficult".
The SDLP leader was speaking to BBC NI's The View ahead of DUP leader Arlene Foster's attendance at an LGBT event next week.
It will be the first time a DUP leader has attended a reception for the LGBT community.
But Mr Eastwood said: "They can turn up to whatever event they want, but until they get out of the way of marriage equality then people will not take them seriously."
A gay man who votes for the DUP, however, said the party should be given credit for accepting the invitation.
The man told The View: "Mrs Foster has modernised the party in certain ways and has put her own stamp on as leader and that has to be welcomed."
Asked why he votes for a party which is opposed to same sex marriage, he said: "I don't take pride in being a homosexual in the same way other people don't take pride in being heterosexual, it doesn't define me, so therefore it doesn't define my politics.
"I am fundamentally a unionist and that's why I vote DUP."
Sinn Féin councillor Conchúr McCauley, who is also gay, told The View he welcomed the DUP move, but said that the party must first apologise for comments made in the past.
"They need to say sorry for the abhorrent and heinous things they have said about our community," he said.
The Derry City and Strabane District councillor added: "We need to know if they are going to endorse equal marriage and demand to know if they are going to abuse the petition of concern to stop us from being equal."
Tags: