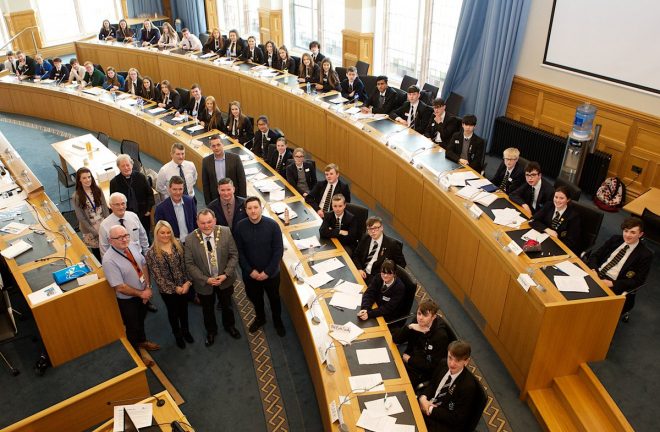 MAYOR of Derry City and Strabane District Council, Councillor Maolíosa McHugh has welcomed the opportunity to hear more about young people's hopes and aspirations for the city and district as students took part in a Mock Council Meeting as part of the 'Local Democracy' event in the Guildhall this week.
A total of 46 young people aged 14-18 came together in the Council Chamber at the Guildhall to learn about the decision-making processes within Council, the role of a Councillor, and how to become a Councillor. Participants then got some hands on experience of what it is like to be a Councillor through a group work session supported by local Councillors and the chance to debate during the Mock Council Meeting.
Young people from the PEACE IV Derry City and Strabane District Youth Council steering group also had the opportunity to present about the work they have been involved and the youth participation opportunities going forward.
This event forms part of a programme of PEACE IV Youth Participation and Democracy activities funded by the EU's PEACE IV programme, managed by the Special EU Programmes Body.
Mayor McHugh said: "I was delighted to chair this week's Mock Council Meeting and have the opportunity to hear more about the issues that are important to young people throughout our city and district.
"We have a very young and vibrant population – so it's vital that local politicians are conscious of their views, aspirations and expectations when making decisions.
"Our young people have so much to offer in terms of ideas and hopes for the city.
"They have a key role to play and were vocal and constructive during some lively debate in the Council Chamber this week.
"Throughout my term in office – including with my 'Game On' initiative – I have been engaging with young people throughout the city & district who are responsible for shaping the future of Derry and Strabane.
"This Local Democracy event was therefore another great opportunity to hear from our young people.
"Indeed, in meeting with our local Councillors to find out more about their civic roles and duties, I hope that it not only helped them to better understand how local government works but how it can empower people to instigate change."
If you or someone you know is interested in taking part in the PEACE IV Youth Participation and Democracy Programme please contact Derry City and Strabane District Council's Children & Young Peoples Coordinator Claire Lynch on claire.lynch@derrystrabane.com for further information.
Tags: