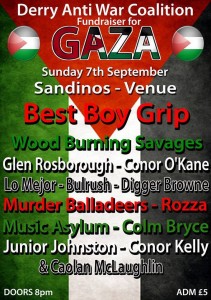 Some of the biggest names on the Derry music scene will come together this weekend to stage a "Gig for Gaza."
Thirteen acts will perform on two stages at the event, being presented by the Derry Anti War Coalition,  being stage in Sandino's Main Venue on Sunday.
Those taking part include The Wood Burning Savages, fresh from their Glastonbury triumph and Radio Ulster's Electric Mainline favourite,  Best Boy Grip.
The night has almost every music genre covered from banjo strumming punk rock folk with the legendary Teknopeasant, Derry Hip-Hop with Music Asylum and even has the Country and Western comedy styling of Mr Digger Browne.
Full details of the line up can be found on the Derry Anti War Coalition's Facebook page.
Doors open on the night at 8.00pm and admission is £5.
Due to the large number of acts and the quality of the line up, people are encouraged to get there early.
A spokesperson for Derry Anti War Coalition said all the proceeds raised on the night will go directly to activists on the ground in Gaza.
The spokesperson added: "The Derry Anti War Coalition would like to thank all the musicians who are giving their time and lending their talent to this great cause and the people of Derry who we hope will turn out in huge numbers to show their solidarity with the people of Gaza."
Tags: