Two Derry men who the PSNI believe were on "operational duty for the Real IRA" when a gun and ammunition where uncovered in a car stopped by police over three years ago have been jailed for a total of 15 years at Belfast Crown Court.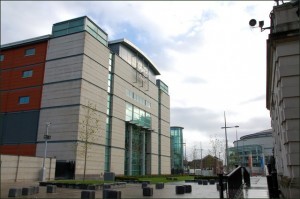 Martin Mcloone (25), of Abercorn Road was jailed for eight years and Darryn Patrick McCallion (25), of Rathlin Drive in Creggan, sent to prison for seven years.
The duo were among four men detained by uniformed PSNI officers after they stopped a Ford Fiesta car on the Gorticashel Road outside Omagh on 11 October 2010.
The other two, Mark McGuigan (29), of Sperrin Way, Omagh was sentenced to 12 years and Daniel John Turnbull (33), from Strule Park, Omagh was jailed for nine years
A previous court had heard the two Derry men were in the rear of the vehicle which was being driven by McGuigan with Turnbull in the front passenger seat.
During a search of the vehicle, police found a green Celtic holdall in which a loaded . 38 Webley revolver was concealed inside a sock.
A quantity of ammunition, including 13 rounds of .22 rimfire rifle cartridges and 20 rounds of 9 x 19 mm calibre cartridges, were discovered inside a second sock.
The court heard that during follow up searches, police found a black Vauxhall Corsa car in Davagh Forest. Inside, police found a sledgehammer.
The court was told that the car was bought some days before by McCallion.
The following day, on October 12, police carried out a search at 5 Mill Cottages in Greencastle, Co Tyrone and found a three-door Renault Clio car belonging to Daniel Turnbull parked outside.
Inside the car, officers found a sub-machinegun and magazine along with 42 .22 calibre cartridges.
The court was told that the search of the Clio also uncovered three sets of ballistic body armour, latex gloves, ear defenders and combat clothing.
McLoone, McCallion and Turnbull each admitted to the possession of a firearm with intent on 11 October 2010.
Turnbull also admitted a further count on the same date of possessing articles likely to be used in terrorism.
McGuigan had been found guilty at a trial November of possessing a firearm with intent and possessing a firearm and ammunition in suspicious circumstances.
Each will serve half their jail terms in custody and the rest on licence.
Tags: