Police say five people were arrested for public order offences over the 'Soldier F' symbols during Saturday's parade through Derry city centre.
Police surrounded the Clyde Valley FLute Band round the parade route to prevent a breach of the peace over the symbols.
However, the band was not allowed to take part in the return leg of the parade.
Waterside Councillor Christopher Jackson said that it was unacceptable that a flute band were allowed to march through Derry wearing the symbols.
Soldier F has been charged with the murders of two men and the attempted murders of four others in Derry on Bloody Sunday in January 1972 when British paratroopers opened fire unarmed civilians, killing 14 people.
He is set to appear at court in the city next month.
"The PSNI and the organisers must explain why, after giving an assurance that no provocative symbols would not be tolerated, this band were allowed to march in the parade," Councillor Jackson said.
"This is a deliberate attempt to stir up tension and to hurt the families of the Bloody Sunday victims.
"Sinn Fein will be raising this incident with the Parades Commission and the police to ensure it does not happen again."
The PSNI said: "We are investigating the behaviour and symbols displayed by one band, following yesterday's Apprentice Boys Parade in Derry.
"Five people were arrested on suspicion of public disorder offences.
"We'll work with the event organisers to examine the issues from yesterday's parade."
Meanwhile, Saoradh, the political wing of the dissident republican terror group, held a protest during the parade.
Members of the group erected a 'No Sectarian Parades' banner on Shipquay Street, yards from the main parade route.
The New IRA accepted responsibility for the murder of writer Lyra McKee in the city during a riot in Creggan on Thursday, April 18.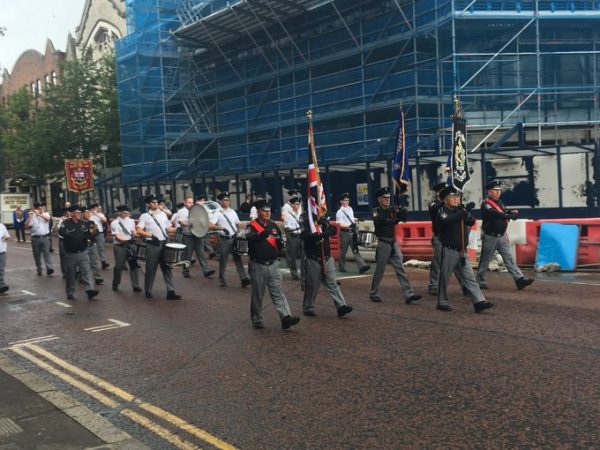 Thousands of Apprentice Boys marched through the city to commemorate the ending of the siege of Derry in August 1689.
The event is known as the 'Relief of Derry' parade.
Despite a heavy police presence in the area and the Saoradh protest the event passed off largely without incident.
A 21-year-old man was arrested in the Ferryquary Street area of the city after being involved in an "altercation" with marchers during the parade.
Tags:
A SINN Fein councillor has demanded answers after a band marched in the annual Apprentice Boys parade wearing "symbols relating to Soldier F".