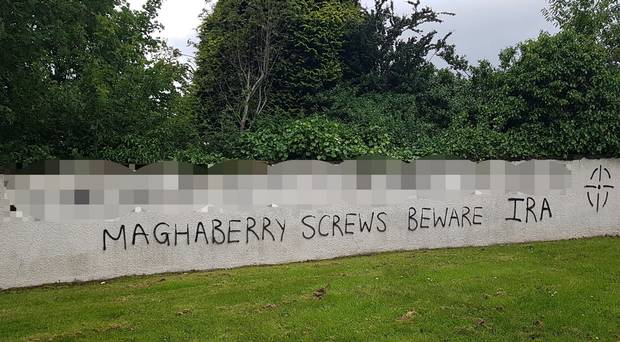 THREATENING graffiti in Derry targeting the lives of serving prison officers in Maghaberry jail shows the level of pressure facing prison staff, its union has said.
Ivor Dunne, the Chairman of the Prison Officers Association, said he spoke to officers whose names were daubed on a wall in Creggan.
Mr Dunne previously worked as a prison officer in Maghaberry until he took over his current role as POA Chairman in 2017.
The graffiti has now been painted over but it is the second time this week officers' identities have been made public alongside threats.
Earlier this week similar graffiti appeared on the walls of the former police station in Stewartstown, Co Tyrone.
Mr Dunne said: "I have spoken to the prison officers that have been named and they are very concerned that they have been identified in this way.
"It is very distressing for them and their families and they are being fully supported by Northern Ireland Prison Service.
"Prison staff are well aware of the risks they face every day and understand the need to take their personal security seriously.
"These very public threats to these serving officers do give an insight into the kind of pressure prison officers deal with on a daily basis.
"Every day prison officers deal with verbal threats and actual assaults but continue to carry out their duties in a professional manner treating everyone equally."
DUP Foyle MLA Gary Middleton said it was extremely worrying that the lives of prison officers were threatened in such a public arena.
He said: "It is a cause of great concern that the names of prison officers have been painted on a wall and I am relieved to see this sinister graffiti has now been painted over."
The PSNI in Derry are investigating the threatening graffiti and have appealed for anyone with information to contact them on the 101 number.
Tags: