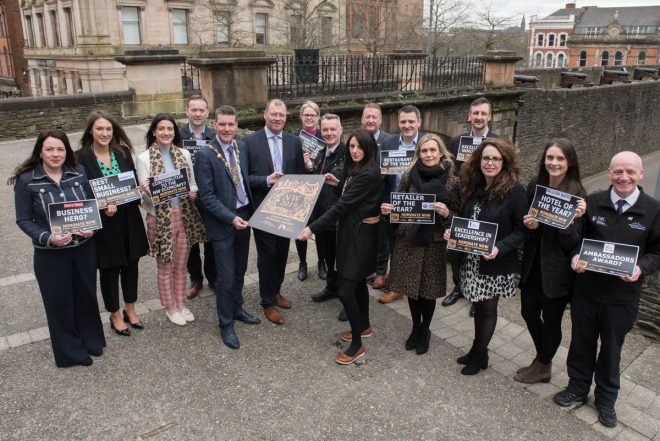 Organisers of the North West Business Awards have revealed the category finalists for the 2019 awards to be held at the Best Western Whitehorse Hotel on Friday 7th June.
The awards, which is sponsored by Derry City and Strabane District Council will highlight the North West's finest of 2019 at a gala awards ceremony early next month.
Jim Roddy, City Centre Initiative said they were pleased to receive so many entries for this year's awards and wished to thank everyone who took the time to submit an application.
He said: "Once again our judges had a tough time in selecting our shortlisted entries.
"I'd like to thank everyone who nominated for this year's awards and our judges, as we had some great entries and unfortunately, many did not make the shortlist but we are confident, based on submission detail, that those selected are deserving of their place in the final.
"The businesses and entrepreneurs who have been shortlisted will now represent the North West's 2019 best in business.
"For those who were unsuccessful this year, we'd like to thank you for your entry and we assure you that your efforts and impact on the economy on the North West is greatly appreciated but unfortunately, we have only space for three nominees in each category.
"Tickets for the awards, where the winners will be revealed, are now on sale and I'd encourage everyone to attend – it's a fantastic, fun evening and a great opportunity to meet with like-minded people."
The Mayor of Derry City and Strabane District Council, Councillor John Boyle spoke about the opportunities the awards can bring to those shortlisted and added: "The NW Business Awards is a platform for all business throughout the city and region.
"The prestige associated with these types of awards is invaluable for business owners, their staff and the general public, as it inspires buyer confidence and raises the profile of the award recipients.
"We have so much to offer as business destination with a high calibre of services, facilities, staff and hardworking people.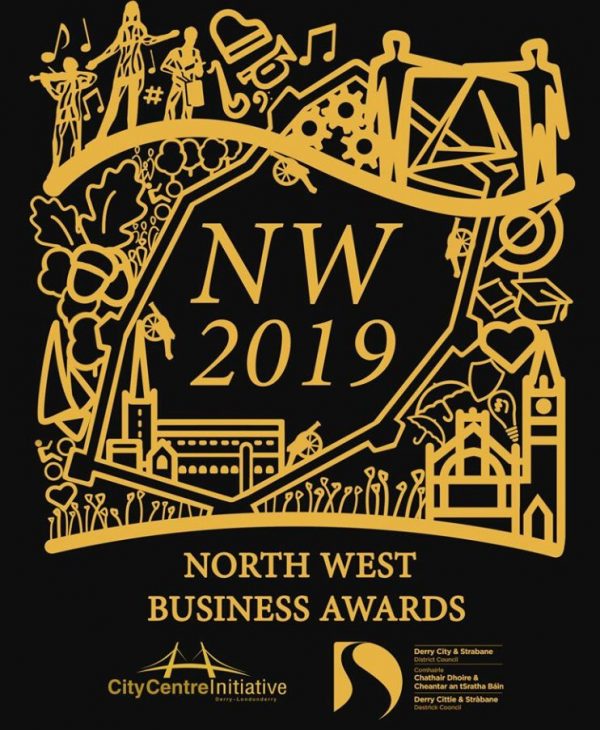 "There will always be challenges for business and as we move forward through Brexit it is important that we have confidence in what we do and celebrate who we have in the NW, which is why will continue to have these awards. Congratulations to all those shortlisted and I look forward to seeing our winners of 2019!"
The 2019 NW Business Award finalists:
NW Creative Industries Business of the Year – sponsored by Foyleside Shopping Centre
Fashion & Textile Hub
In Your Space
Season Hats
NW Pub of the Year – sponsored by Full Circle Management Solutions
Badgers
Bentley
Guildhall Taphouse
Restaurant of the Year – sponsored by RiverRidge
Primrose Café
Soda & Starch
Synge & Byrne
Hotel of the Year – sponsored by Dillon Bass
City Hotel
Everglades
Shipquay Boutique Hotel
Retailer of the Year – sponsored by JKC Coleraine
City Man
Sproules
Synge & Byrne
Business Hero of the Year – sponsored by Derry News
Aaron Coleman
Fashion & Textile Hub
Sean Dillon
Young Business Person of the Year – sponsored by Specsavers Derry
Adam Beales
Ben Sayers – Beanery Nursery
Gerard McElwee
NW Award for Environmental Excellence in Business – sponsored by Derry City and Strabane District Council
2 North
EHA
Seagate
Contribution to the NW Economy Award – sponsored by City of Derry Airport & Loganair
EHA Group
Fintru
NWRC
NW Excellence in Innovation – sponsored by Allstate
Globaltec NI
Joule Group
With Love Recipes Ltd
NW Excellence in Leadership – sponsored by Ulster University
Garvan O'Doherty
Gavin Kileen
John Harkin
Best use of Marketing, Digital and/or Social Media – sponsored by BHP Security Solutions
Fintru
Nerve Centre
NWRC
Best NW Small Business – sponsored by Power NI
DA Miller
MFC Sport
MPA Recruitment
Sproules Jewellers
Best NW Large Business – sponsored by Dalradian
Allstate
EHA
Fintru
Tickets for the event are now available.
Further information on the North West Business Awards, which will be held on Friday 7th June at the Best Western Whitehorse Hotel, can be found at the Facebook and Twitter pages @NWBizAwards or via the websites www.cciderry.com/businessawards
Tags: