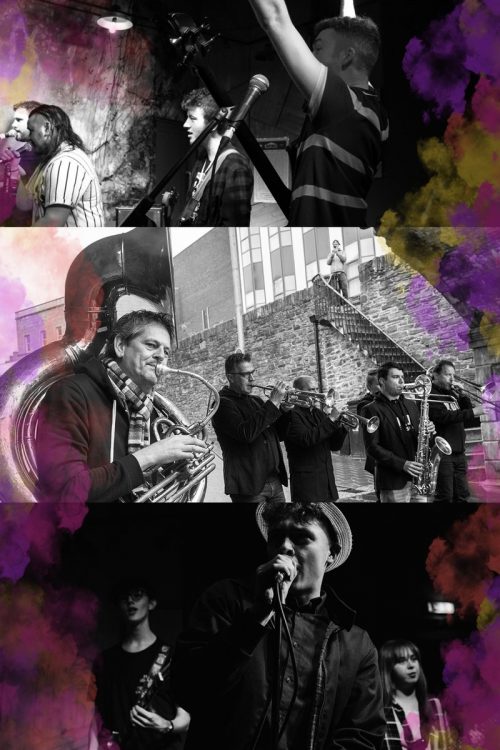 YOUNG people will be moving centre stage with their own fringe programme at this year's City of Derry Jazz Festival.
Whether it's jamming with fellow jazz musicians, hearing 'the hottest horns in the business' from eight real life brothers or launching Ireland's leading electronic music festival, Youth 19 at the Jazz Festival will see international acts entertain and educate local young people with workshops, masterclasses, outdoor concerts, on-street performances and live gigs.
Youth 19 is a year-long programme of events, festivals and projects dedicated to 12 – 24 year olds.
The City of Derry Jazz Festival has become renowned all over the world and this year's Youth 19 fringe programme marries jazz with a number of other music genres to celebrate what young musicians are currently producing locally while building on their knowledge of jazz music.
Two of Ireland's brightest young jazz talents, Joseph Leighton and David Lyttle, join forces to perform special concerts at youth clubs across the city on Thursday, May 2 and Friday, May 3.
North West Regional College will host a Students' Jazz Showcase at Friday lunchtime while the Nerve Centre will be the venue for Youth 19 at Jazz gig on Friday night.
The music will be moving onto the street over the weekend with both professional brass bands and local schools and young people hitting the right note around various city centre spots.
Check the festival programme for times and locations.
Topping it all off will be the 7th Annual DLD Second Line Jazz Parade on Saturday, May 4, kicking off at Castle Street at 11.4 5am, a spectacle not to be missed.
Come along and mark the 400th anniversary of the completion of the City Walls with the fabulous Jaydee Brassband, the kickin' Heavy Beats Brass Band and, for the first time this year, the fabulous Mr Wilson's Second Liners.
Already famed for its weekly jazz programme, curated by pianist and owner John Leighton, Bennigan's yard will host jam sessions hosted by the city's best young jazz musicians at 11 pm on Friday, Saturday and Sunday nights and at 2 pm on Monday.
Headlining the programme are 'the hottest horns in the business', Hypnotic Brass Ensemble who will be live on Sunday, May 5 – the same horns from Hunger Games Soundtrack, GORILLAZ Plastic Beach, & Wutang Metal Lungees…
Dubbed 'the Original Bad Boys of Jazz', Chicago's own Hypnotic Brass Ensemble are eight incredibly talented brothers – all sons of pioneering jazz trumpeter Kelan Phil Cohran (Sun Ra's Arkestra).
Now based in NYC the band have blazed a trail as one of the best live acts in the music industry today and were rated as one of the 'New York Times Top 20 Acts to See Live'.
With the respect and personal invitation of some of the greatest artists of all time, Hypnotic Brass Ensemble have worked with and shared stages with Prince, Gorillaz, Snoop Dogg and De La Soul while rocking stages from India to Brooklyn, Glastonbury to Sydney Opera House – and now Derry's own Sandinos.
HBE performs their own original and ultra-energetic mix of rock…hip-hop…salsa…and soul while moving the crowd, this band of blood-brothers will keep you on your feet. See it now or hear about it later!
Ending on a high note, the Youth 19 programme will conclude when David Lyttle & City of Derry Jazz & Big Band Festival presents Rising Stars of Jazz featuring Micheal Murray (saxophone), Conor Murray (bass), Joseph Leighton (guitar), Jack Kelly (bass) at The Playhouse on Monday, May 6.
In this exciting jazz festival special, David Lyttle will perform in a double bill presenting two trios with exceptional, hugely promising young Irish talents who he has mentored over the past few years and featured on his recent tours.
Bronagh O'Neill, aged 14 who sits on the Youth 19 Young Peoples' Marketing and Events Steering Group, and is involved in organising and delivering the events for the year said:
"I am really happy to be involved in organising all of the events for Youth 19, but especially the Youth Jazz programme, given my love of jazz music.
"I have both performed and attended the jazz festival the past four years and the energy around the town is always amazing.
"Everyone that's there enjoys the music, dancing and all the stalls etc.
"This year, the programme is packed full of different kinds of entertainment for everyone including youth 19's events in the nerve centre, that I am really excited about to be down and around again this year!"
For full details of the Youth 19 at the Jazz Festival fringe programme and future Youth 19 events, visit: www.youth19.com
Tags: