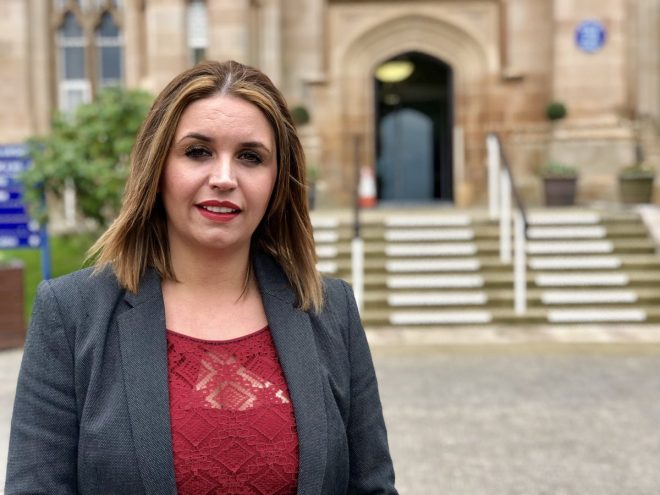 SINN Fein's Elisha McCallion has said the British political system is in unprecedented crisis as a result of Brexit.
This afternoon EU Council president Donald Tusk said said a short extension, requested by British Prime Minister Theresa May in writing to EU leaders on Wednesday, was possible.
The Tory leader is seeking a three month Brexit extension from March 29 to June 30 in a bid to get Meaningful Vote 3 over the line with MPs.
However, Mr Tusk added that it depended on a "positive" vote in the House of Commons and would need the agreement of all 27 EU leaders.
France has already warned that it may not be prepared to back an extension to Brexit.
French foreign minister Jean-Yves Le Drian told the French Parliament on Wednesday that unless Britain was able to give "sufficient guarantees" it had a credible strategy that the request could be turned down.
Sinn Fein Foyle MP Elisha McCallion said this afternoon: "We are now 1,000 days on from the Brexit referendum and there is no more certainty now than there was then.
"The only thing we no for sure is that there is no such thing as a good Brexit for the north.
"In that time there has been a litany of resignations from the deeply divided British cabinet and the British Parliament is in absolute chaos.
"Amid all the votes, motions and amendments there has been absolutely no regard shown for the impact of Brexit on the north and no grasp of the reality on the ground shown.
"The British political system is now in unprecedented levels of crisis.
"There is a deal in the table and it's the only deal on the table.
"It's the Withdrawal Agreement and the backstop it contains and it is the only certain way to avoid a crash out Brexit, whether next week or in three months.
"The uncertainty for our business sector, our farmers and everyone else must end and the Brexiteers need to step back and show some common sense and realism for once," she added.
Tags: