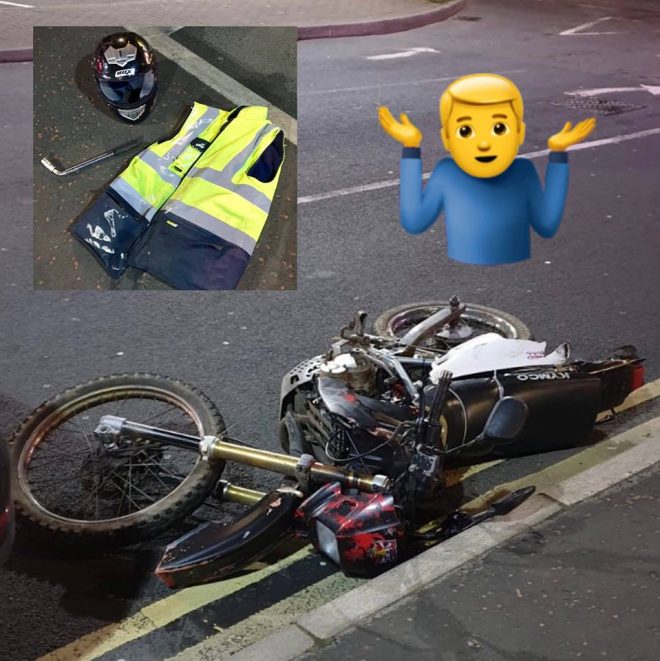 POLICE are on the trail of the rider of this motorbike who gave cops the slip yesterday during separate chases across Derry.
In his hurry to evade capture, the dozy rider forgot to put enough unleaded fuel in the tank and was forced to dump his scrambler-style bike, helmet, Hi-Vis vest and a wheel brace at the scene.
An officer writing on PSNI Foyle's Facebook wrote:
"ADVICE: Don't Goad Police If You're Running Out Of Fuel.
"We've all seen awful drivers who seem to have only read half of the Highway Code.
"I actually remember chasing a guy who drove like a maniac but stopped at a Zebra Crossing to let a group across 🤷‍♂️
"Today we got this bike off a guy who appeared to only get up to page 2 of the book:
1. Wore a Helmet ✅
2. Had Hi-Visibility Clothing ✅
BUT
3. No Lights ❌
4. No Registration Plate ❌
5. No Insurance ❌
6. Dangerous Driving ❌
"He made off from the Bogside, Brandywell and Fountain Neighbourhood Team on the Northland Road but seemed to be looking a chase 🏍 as he would speed off then hang back and look around at us.
"We picked him up again on Buncrana Road where his stupid attitude and moronic actions finally came to a head as he ran out of fuel.
"He had the criminal gumption to dump his wheel brace, Hi-Vis and helmet (he wouldn't have been hard to spot in a crowd) but lost his bike."
Tags: