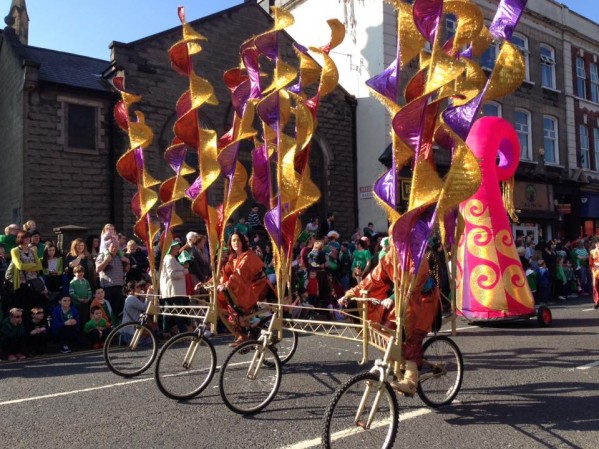 DERRY City and Strabane District Council has issued traffic and travel advice ahead of St Patrick's Day celetration in Derry city this weekend.
Anyone hoping to attend the events in Derry over March 16-17 is asked to check traffic and travel information in advance as some minor disruption is expected, including a number of road closures to facilitate the main festival parade on Sunday.
On Sunday March 17, Bishop Street/Without, Shipquay Street, The Diamond and Strand Road will be restricted to traffic for varying lengths of time during the afternoon between 12.30 pm and 4 pm.
Alternative diversion routes will be available during these times.
There will also be a lane restriction in place on The Foyle Embankment on the city bound approach from Translink Bus Depot to Harbour Square Roundabout between 12.30 pm and 4 pm.
Drivers should prepare for some delays and should allow a little extra time when planning their journeys, to ensure everyone's safety and in order to help minimize disruption and inconvenience to the local community.
The events kick off on Saturday March 16th with the colourful Ubuntu festival, bringing local ethnic communities together for a rich celebration of diversity and culture.
This free event takes place from 12pm – 5pm and will include a wide range of both indoor and outdoor activities in the Guildhall and also Guildhall Square.
Supported by Council's Good Relations Programme, which is funded by The Executive Office, entertainment will include arts and crafts, music and dance workshops, as well as a whole host of performers on the Global Beats Stage.
Anyone with limited mobility should note that an accessible viewing area will be located on Whittaker Street opposite the Guildhall, Visitors who wish to avail of this area should plan to arrive a little earlier in order to ensure unimpeded access before streets become congested.
Where possible, the public are strongly advised to use the public transport system or to consider walking to the event. Details of all buses can be found by visiting www.translink.co.uk/Routes-and-Timetables
Car parking is available at regular sites across the city, including on the Cityside: Foyleside Shopping Centre Car Park East, Foyleside West and Quayside Shopping Centre, Foyle Road, Magee Campus (Lawrence Hill),Victoria Market, Queen's Quay, Society Street, Carlisle Road and William Street.
And in the Waterside at: Alfred Street, Bond's Hill, Distillery Brae, Simpsons Brae, Spencer Road and Old Bridge House. Motorists are advised that there are likely to be delays when exiting some car parks during the parade.
Blue Badge holders are encouraged to use available public, disabled car parking spaces and a limited number of accessible parking spaces for the viewing area platform will be available in the Foyle Street Car Park.
Drivers are reminded that normal on street parking restrictions will be in place and that they should avoid parking anywhere where they may be blocking entrances to residences or businesses or where they may be obstructing emergency access.
Some parking restrictions will be in force with car parks at Strand Road, Foyle Street and Bishop Street closed on Sunday March 17.
Vehicles stopping to drop off passengers should park in a safe location and avoid the immediate vicinity of the City Centre, in order to minimise traffic congestion.
Please note that all times are approximate and that road restrictions and diversions will be kept to the minimum length necessary to ensure safety. Please tune in to BBC Radio Foyle and Q120.9FM for updates on traffic and car parking information.
Full details of the Spring Carnival programme are available at www.derrystrabane.com/springcarnival
Tags: