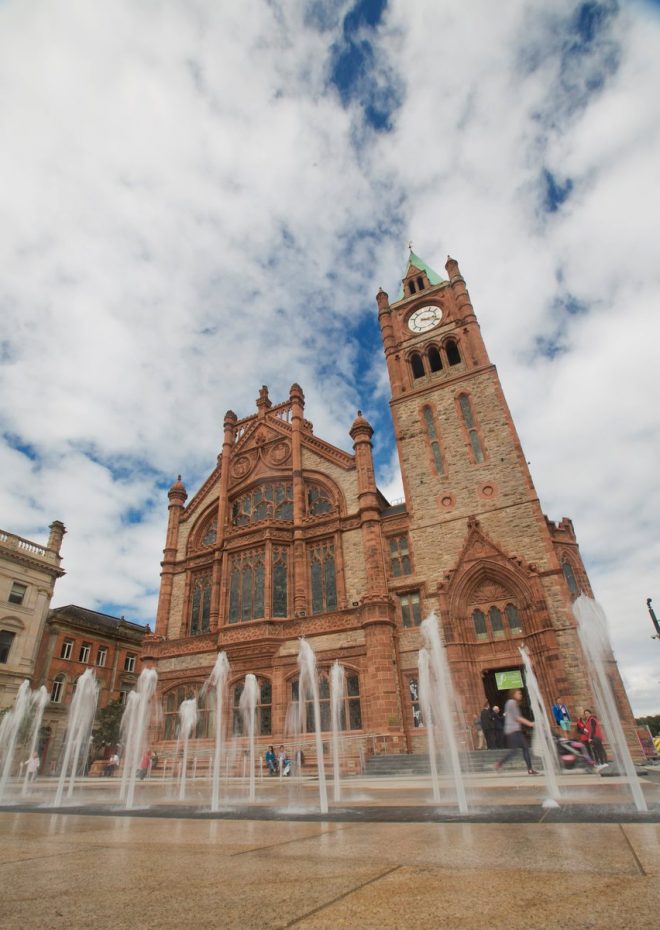 DERRY City and Strabane District Council held its third annual conference to celebrate people with disabilities at the Guildhall this week which showcased great local talent and had a host of keynote speakers and information sessions.
The European Day of Persons with Disabilities is celebrated every year and this was Council's third year hosting a conference which is part of the European Union's wider efforts to promote the mainstreaming of disability issues in line with the UN Convention on the Rights of Persons with Disabilities.
Deputy Mayor of Derry City and Strabane District Council, Cllr Derek Hussey said it was such an honour opening the event in the Guildhall.
"It is highly important that we support and promote this day to not only raise awareness of the issues affecting people with disabilities, but also highlight the ongoing work that continues to be developed promoting the effectiveness of working together" he said.
"Our council has been taking the lead in many initiatives to improve quality of life experience for our pan disability community. We will continuously endeavour to leave no-one behind and ensure all our residents and visitors can make informed choices regardless of ability" he said.
"I am pleased to say that there was a full house in attendance with various speakers and performers in the fabulous line up to support the celebration. Many joined us to inspire and encourage those attending to continue speaking about leading and supporting the needs and policies that affect people with disabilities."
Louise Boyce, Derry City and Strabane District's Council Access and Inclusion Officer added: "This was our 3rd annual celebration and it really exceeded all expectations.
"There was such high quality performances from Sarah-Jane Murray from Knockavoe School, Strabane who moved the audience to tears with her version of 'O Holy Night', a thought provoking performance from Stage Beyond with their especially written performance 'This is Me' and Sole Purpose's Sole Roots Theatre Lab highlighting mental health and disability with extracts from a recently written play 'She wants to be a what?' performed by Bernie Kerr and Caitriona Cunningham. Highlights of partnership working were discussed by Public Health Agency, Department for Communities and Equality Commission NI.
"Huge strides have been taken since our last conference and this year's celebration has been an even greater success because of the progress to date in partnership with Public Health Agency and newly developed partnerships with Equality Commission NI and Department for Communities such as cultural venues working towards becoming autism friendly and the continued improvement of accessibility in DCSDC's festivals and events such as Halloween.
"Indeed, there has also been synergy identified between age friendly, autism friendly and dementia friendly initiatives led by the Access and Inclusion project.
"Within the last year, through a co-produced approach many cultural venues have achieved grant aid to implement capital improvements in their premises which in turn ensures they are opening opportunity to our pan disability community to attend arts and cultural activity.
"These initiatives will reduce barriers, isolation and increase health and wellbeing.
"Venues continue creating innovative and motivational programming to support people with disabilities and the showcases on the day were a testament to that.
''The Equality Commission is also pleased that its 'Every Customer Counts' model of assessing and improving accessibility has been used in developing the DCSDC model of Access and Inclusion.
"We hope that this model will be taken up by other district councils and used to improve accessibility in arts and culture venues across Northern Ireland.''
Siobhan Sweeney from the Public Health Agency concluded: "PHA is delighted to support the third annual European Day for Persons with Disabilities and the ongoing work, led through the Access and Inclusion Officer at Derry City and Strabane District Council, which is now recognised as a model of best practice in promoting accessibility within arts and cultural activities.
"This was a great opportunity to celebrate the achievements of the participants and present the future plans for the project which will continue to improve the health and social well-being of the pan-disability community, through access to the arts".
Following successful collaboration with Derry City and Strabane District Council in 2017 to deliver its Access & Inclusion Pilot Programme, the Department for Communities is currently working with local authorities across NI to develop a similar Access & Inclusion Programme to expand on this success.
The Programme is targeted at improving access to and participation in arts and cultural activities by people with disabilities in keeping with the Department's vision of supporting people, improving communities and tackling disadvantage and inequality of opportunity.
It was fitting that DfC met with Council officials to begin discussions on the Programme on European Day of People with Disabilities which took place in the Guildhall, Derry on 4 December 2018.
To find out more about the European Day of Persons with Disabilities event or 'Access and Inclusion' programmes & projects throughout the City and District, please contact louise.boyce@derrystrabane.com or on 02871 253253 extn 4349 or text 07713707912.
Tags: