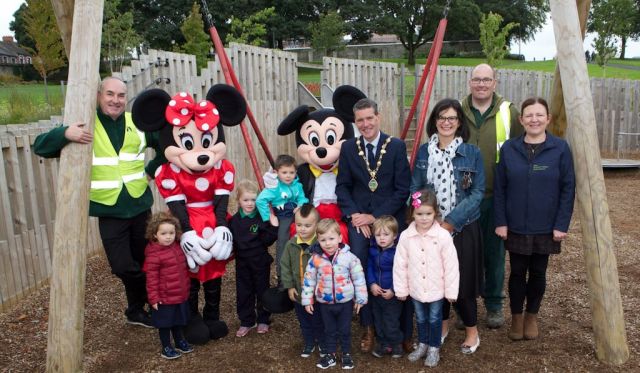 IF you have the back to school blues then you'll be delighted to hear that there's something to look forward to later in the month, as the Mayor of Derry and Strabane invites local children to join him for a Charity Family Fun Day in Brooke Park.
The event will feature an afternoon of free family friendly activities on Saturday September 22 from 2pm – 5pm with all donations in aid of the Mayor's chosen charity, Foyle Search and Rescue.
Announcing the event, the Mayor, Councillor John Boyle, said he was delighted to be hosting the event in the beautiful grounds of the recently regenerated park.
"Brooke Park has undergone a major transformation and recently the extensive work which has gone into the project has been recognised with a second Green Flag award.
"I can think of no better location for a community event, and I would like to invite families to come along and enjoy some great activities and support a fantastic cause.
"Foyle Search and Rescue are providing an invaluable service for the local community and this is an opportunity for us to acknowledge that work with a huge showing of support.
"I'm really looking forward to meeting and greeting you all so please stop for a picture and say hello."
Activities on the day will be based in and around the Café Area and children's playpark with a whole host of things to enjoy, with Bouncy Castles, a Rodeo Bull and a special carousel.
Children can also enjoy face painting and balloon modelling as well as complimentary hot chocolate.
In keeping with Council's aims to create a zero waste Council area, on the day Conservation Volunteers will also be bringing along the Green Bus and organising a number of fun activities to raise awareness about protecting and enhancing the environment.
Parks Manager Emma Barron said it was a great opportunity for people to find out how they can make a difference.
"The Conservation Volunteers (TCV) are the leading practical conservation charity," she explained.
"The charity is based at the Horticultural Training Centre at Brooke Park and the group run a wide range of programmes to involve people in the environment.
"These include practical projects to improve the environment, training in horticulture and other skills to help the long-term unemployed gain employment, food growing projects and a Green Gym to help improve people's health through environmental activity.
"At the Brooke Park Family Fun Day, TCV will be providing a range of environmental activities for children, including badge making, building bird boxes, environmental art and planting seeds and plants to take home.
"TCV's Green Machine lorry will be parked near the Oval Pond and the environmental acuities will take place in this area."
So mark the date for a fantastic day out at the Mayor's Family Fun Day, Saturday, September 22 from 2pm – 5pm in Brooke Park.
Tags: