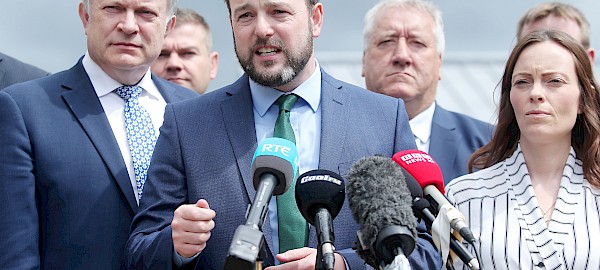 THE Leadership of the SDLP has written to the Secretary of State, Karen Bradley MP, and An Tánaiste, Simon Coveney TD, ahead of the convening of the British-Irish Intergovernmental Conference tomorrow, Wednesday, July 25.
They have urged them to use the Conference as an opportunity to agree a package of legislation to break the deadlock at Stormont and enable MLAs to get back into the Chamber and back to decision making.
SDLP leader Colum Eastwood said: "Tomorrow's Conference can be used as an opportunity to provide the much desired and long-awaited opportunity to pave the way for the restoration of power-sharing in the North.
"We have been consistent in our calls for the reconvening of the British-Irish Intergovernmental Conference, as laid out in strand three of the Good Friday Agreement.
"Today we have once again reiterated our calls and made it clear to both Governments that it is imperative that a package of legislation is agreed to deliver on language rights and the reform of the Petition of Concern to ensure issues such as equal marriage can no longer be thwarted by the DUP through the abuse of this mechanism.
"I have once again made clear, the British and Irish Governments – the co-guarantors of the Good Friday Agreement – need to step up and step in.
"People should no longer be left to wait while the DUP and Sinn Féin continue to bicker amongst themselves," added the Foyle MLA.
Tags: