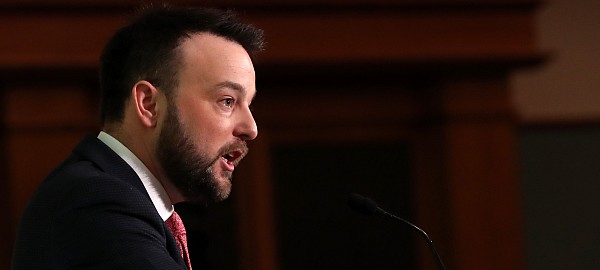 BRITISH Prime Minister Theresa May has been accused of "cowardice" and caving into the demands of hard-line Brexiteers.
It followed the government decision on Monday to agree to a legal guarantee that there will be no post-Brexit customs border in the Irish Sea.
The SDLP said there is now a real danger of the UK crashing out of the EU with no deal.
The proposers of "New Clause 37" – an amendment to the Customs Bill – argued that it would prevent a border between Northern Ireland and the rest of the UK.
On Monday night, MPs approved the clause without going to a vote, but two other amendments tabled by Tory Brexiteers scraped through by just three votes in the Commons.
New Clause 37 directly contradicts the EU's legal draft of the so-called "Irish backstop", which suggested Northern Ireland should be treated as part of the European Union's customs territory.
That legal version of the backstop has already been rejected by Mrs May. However, the prime minister has said she will abide by the principles of a protocol on a future backstop which it negotiated with Brussels in December.
The amendment was backed by both the DUP and the pro-Brexit Conservative European Research Group or ERG.
However, SDLP leader Colum Eastwood accused Mrs May of cowardice, saying that ruling out the backstop will "effectively drive us to a 'no deal' Brexit and probably a hard border in Ireland".
"That is not acceptable to democratic Ireland," said the Foyle MLA.
"Time and time again, the SDLP are crucified for our willingness, and in fact desire to take our seats in Westminster for reasons as tonight perfectly illustrated.
"The SDLP, as people here want and need us to, would have said no to reckless Tory Brexiteers and the ideologically driven DUP who care more about delivering on their facade of 'taking back control' than actually delivering for their constituents.
"The writing is on the wall, and written in bold; Remain voters and Nationalism has been let down and brought one step closer to catastrophic 'no-deal' Brexit.
"Time and again, business and third sector representatives express frustration that local concerns and voices are not heard in this debate.
"Our MPs are refusing to make them heard.
"There are many ways to influence Brexit but this limping, destructive government just won by 3 votes.
"Ten DUP MPs are chasing extreme Brexit and seven Sinn Fein MPs don't show up – either or both could have comfortably protected the interests of people here."
Tags: