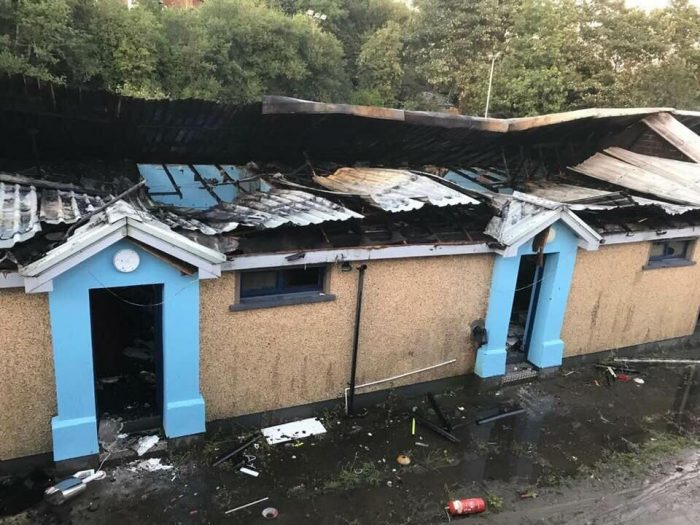 THIS is the scene of devastation after last night's fire at Institut"e FC's ground following an arson attack.
The changing rooms at the Riverside Stadium were completely destroyed by fire which was started just after 7.30 pm on Friday night.
Last August, the Drumahoe ground was destroyed following heavy flooding across Derry and the North West.
As a result, 'Stute' will be playing their forthcoming games in the 2018/19 season at the Brandywell.
The club said in a statement this afternoon: "As all utility services were disconnected following the flood, we have to surmise that this fire was started maliciously.
"It is another sad day for the club and our supporters. Natural disasters are one thing, but the possibility that some individuals would intentionally set out to add insult to injury is beyond comprehension.
"This incident only serves to highlight the importance of redoubling our efforts to put the club back on a positive trajectory aimed at ensuring a sustainable and stable future.
"The next important milestone on this journey will be our AGM which is scheduled for Monday night at 7.30 in Brigade Cricket Club."
'Stute' will be play its games in the forthcoming 2018/19 season at Derry City's Brandywell ground.
Earlier today, The club's chairman, Bill Anderson, said: "Obviously, I do feel that sense of sadness and I know that people have a big connection with the grounds, our supporters and everybody associated with the club, will be very sad.
"But I think that for us, it's another indication of the need to move forward as quickly as we can."
Detectives from the PSNI's Criminal Investigation Branch, police scenes of crime officers and the Fire and Rescue Service's Fire Investigation Unit are currently examining the scene for clues to the perpetrators.
Tags: