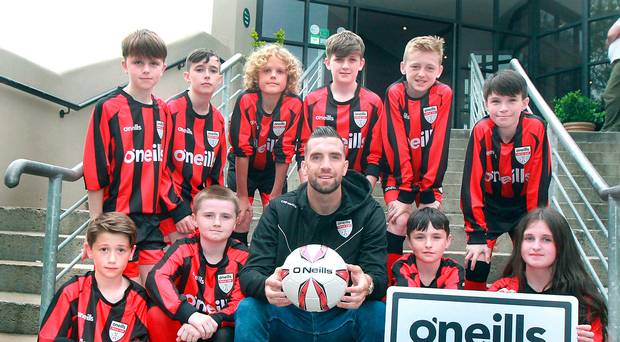 BRIGHTON defender Shane Duffy was the guest of honour at the Waterfoot Hotel for the launch event and draw for the group stages of the 2018 Foyle Cup.
Republic of Ireland international Duffy represented Foyle Harps for five years in the Foyle Cup before netting a move to Everton.
Having recently started both of the Republic's friendlies against France and the United States, Derry-born Duffy made the journey back to his home town for the launch event and expressed his delight to be in attendance and help with the draw.
"It's a massive honour for me to be asked to launch this tournament," said Duffy.
"Obviously I played in the competition over many years and, coming from Derry, it gave me the opportunities that got me to where I am today.
"This event has grown so much in stature and importance that I believe the tournament has become an excellent pathway into professional football for many local kids.
"No matter where you travel in football, when you say you come from Derry, people immediately mention the Foyle Cup event, it is so well known and highly respected throughout Ireland, Britain and Europe."
This year's event takes place from July 16-21 across the Derry, Strabane and Causeway Coast & Glens Council areas, with matches played at venues throughout the districts.
This year also sees a record number of teams competing, with 400 having entered the tournament.
Tournament chairman Michael Hutton enthused: "It's great to have one of our local lads here launching the O'Neills Foyle Cup.
"The Foyle Cup continues to deliver – not only are we supplying players for Derry City and Institute, and quite a few to Coleraine and Larne, but there are so many local lads playing cross-channel football.
"We are delighted with this year's entry – whatever we are doing, we are doing it right when you consider that Ireland is a very small city in terms of the size of countries around the globe."
Kieran Kennedy, managing director of title sponsors O'Neills, added: "As a local company, it is fantastic to support this home-grown tournament that attracts teams the world over. It embodies our ongoing commitment to encouraging local sport.
"We wish Michael and his team the very best of luck and look forward to the tournament kicking off."
Tags: