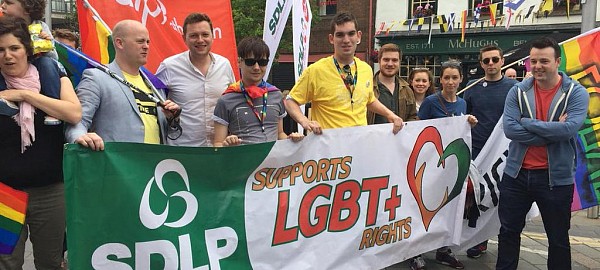 SDLP Leader Colum Eastwood MLA has expressed deep frustration at the lack of progress for Marriage Equality in the North.
The Foyle MLA said: "Unfortunately the current political impasse, compounded by a British Government under the whip hand of the DUP and the intentional delaying of Conor McGinn's Private Members Bill in Westminster means that this years 'March for Marriage Equality' in both Derry and Belfast is as important as it has ever been.
"A drive across the border or a journey across the Irish sea is what it takes for our gay brothers and sisters to marry the person they love.
"But here, in this small corner of Ireland, the love and commitment of same-sex couples continues to go unrecognised by many in power and as a result, in law.
"In 2018, it is devastating that the LGBT+ community are having to march for their basic civil rights to be recognised because of the intransigence of the DUP and a handful of other MLAs, who persist in using a veto to deny minority rights instead of protecting them.
"The SDLP want to make it clear to all who fail to understand, the LGBT+ community are not looking for special treatment, they are looking for equal treatment; treatment that enables them to marry the one that they love in spite of the theology and ideology of a minority group of politicians.
"Marriage Equality is an inevitability. Those who wish to block it by undemocratic means are on the wrong side of history.
"The SDLP will continue to seek to reform the Petition of Concern to ensure that when the Assembly is reinstated, we can fairly legislate for Marriage Equality on behalf of the LGBT+ community," added the SDLP leader.
Tags: