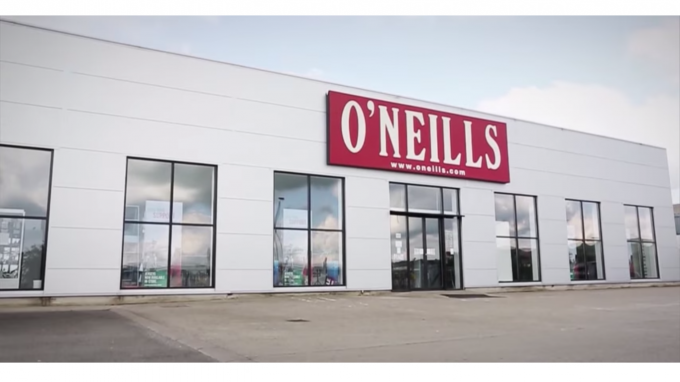 IRISH sportswear brand O'Neills is to create 40 jobs through a new 20,000 sq ft city centre store in Derry.
According to the The Irish News, the move comes following the recent announcement of a new Craigavon branch and success of existing stores in Belfast, Newry, Strabane, Magherafelt and Enniskillen.
As a result, a new flagship Derry superstore is set to open this summer at the former SuperValu site on Waterloo Place.
SuperValu closed its doors almost two weeks ago, but it is believed the retailer is now set to move to smaller premises adjacent to the site, at the former home of Poundworld, with some staff already offered the opportunity to relocate to the new outlet.
The new O'Neills branch will be the company's first city centre store as the firm continues its expansion in the north. A job advertisement for the position of store manager in Derry is due to be launched in the coming days.
Stephen Thompson from O'Neills said he is excited about the company's latest retail venture.
"Celebrating 100 years in the sportswear business, O'Neills is proud to announce that one of the country's most historic, vibrant and dynamic cities, Derry, is to be the location of our latest retail venture, creating around 40 new jobs."
"The 20,000 sq ft store looks forward to welcoming eager customers, both new and old, to this latest destination.
"The store will breathe energy, heritage, authenticity and originality showcasing how far the brand has evolved during its 100-year history," he added.
Just last month council planners approved proposals for an extensive expansion at the O'Neills manufacturing plant in Strabane.
The new development on the former Porter's Clothing factory site beside the current facility includes a new storage distribution facility and shop complex and is set to create as many as 175 new jobs.
A a week before planning approval was granted O'Neills was confirmed as the latest tenant at Marlborough Retail Park in Craigavon.
The new 14,000 sq ft store, due to open around September, is set to create 30 jobs.
O'Neills currently employs over 600 people in the North of Ireland and is the largest sportswear manufacturing company on the island of Ireland.
Tags: