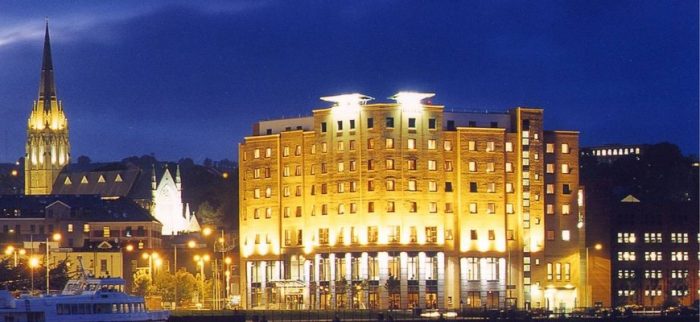 LOCAL small and medium size enterprises will have the opportunity to learn how to pitch more effectively for public sector and big business contracts in a special Enterprise Week event at the City Hotel (pictured above).
'Meet the Buyer', a joint collaboration between Derry City and Strabane District Council and Causeway Coast and Glens Borough Council, takes place on Friday, March 9, and will allow local SMEs to have one to one discussions with key decision makers.
Over 25 buyers will be in attendance including representatives from local education institutions and major public and private sector organisations.
Admission to the event is free but pre-registration by e mail is required as meetings are on an appointment basis only.
Business Development Officer at Derry City and Strabane District Council, Louise Boyce, noted that the event was also an ideal opportunity for SMEs to showcase their own products and services.
"As part of Enterprise Week we are delighted to host this event in conjunction with our colleagues at Causeway Coast and Glens Borough Council which aims to give our local small and medium sized businesses the confidence to bid more intelligently for contracts with some of the biggest local organisations.
"Companies who have attended this event in previous years have appreciated the opportunity to not only learn more about what private sector and big businesses are looking for but also to showcase their own offering.
"The event forms part of an exciting five day programme for Enterprise Week which focuses on supporting individuals who want to start a new business and help existing enterprises to grow."
Sinead McLaughlin, Chief Executive at Londonderry Chamber of Commerce added: "This event represents an ideal opportunity for SMEs in Derry and Strabane to showcase their business capabilities and learn more about how they can tailor their services to meet the needs of industry.
"The procurement process can be an intimidating one for business owners who don't have previous experience of submitting a tender but public service representatives at this event will provide help and guidance to give local SMEs the best possible chance to make a successful bid.
"Registration for the event has been brisk and we would recommend any interested local businesses to secure your place now by e mailing lorraine@londonderrychamber.co.uk."
The packed programme of events for Enterprise Week 2018 aims to offer young entrepreneurs and seasoned businesses alike advice on business planning, marketing your business, lead generation, where to access funding and much more.
The programme aims to offer mentoring and networking opportunities as well as highlighting the services and support available to local SME's and start-ups through a number of events including Start a Business Drop In and Pitch Training sessions and the judging process for the £10k Start Up Business Challenge.
Further information about the Meet the Buyer Event is available at www.derrystrabane.com/enterpriseweek.
Tags: