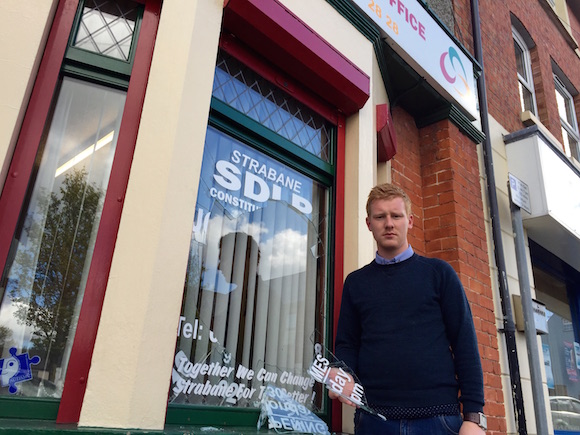 SDLP West Tyrone Westminster candidate Daniel McCrossan has described an attack on SDLP constituency offices in Strabane last night as cowardly and anti-democratic.
Last night the windows of the SDLP Strabane constituency office were smashed and police have made one arrest.
It came hours after McCrossan said Sinn Fein were 'plastic republicans'.
Mr McCrossan condemned the attack and made clear that the SDLP will not be intimidated from working for the people of Northern Ireland
He said: "This latest cowardly attack on the SDLP demonstrates the deep political insecurity of behalf of the vandals.
"I was out late on the campaign trail in Strabane last night when we heard loud smashing noises around 11.30pm. I assumed it must have been someone making a trip to the bottle bank but I was disgusted when I learned that it was our office which had been targeted.
"We have seen our campaign materials defaced before and this latest and much more violent attack are indicative of the contempt with which these criminals hold the democratic process.
"Their attacks have failed to intimidate us and the SDLP will continue to work in the true interest of the people of Northern Ireland and speak out against hypocrisy and social injustice."
Tags: