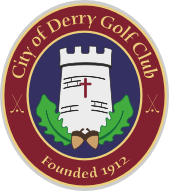 Junior golfers at City of Derry topped the leader board in great style in yesterday's aenior/junior cup competitions.
With juniors those aged under 60 and senior was the rest of the field, Stephen Loughlin (22) set the early pace in the Junior Cup with a fantastic 45 points – a score that was to remain unbeaten.
Two players tied on 42 points, with Rob Jefferson (12) securing second place thanks to a better back nine over Noel O Connell (Jnr) (10).
Club president John Hasson (19) was best of the field in the Senior Cup, his 39 points relegating Colum Murphy (17) into second place on a tie break.
Seamus Given (18) scored 38 points for third place
Tags: