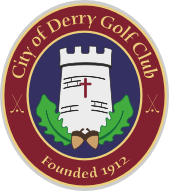 Ross Hunter, playing off a five handicap, took top spot in Bob McKimm's Captain's Prize for juniors at City of Derry.
Ross was six shots clear of nearest rivals, Matthew Orr and Jordan Dunn.
Prize presentation will take place tomorrow at 9.30pm. Prize winners must attend.
The City of Derry Fred Daly team were defeated in the fourth round by a very strong Dunmurry team.
Juniors are reminded that the City of Derry junior foursomes team will be competing in Bangor on Monday, 28 July next. More details later.
Marie Clifford's Lady Captains Prize for juniors will take place on Wednesday, 23 July next.
Presentation on 25 July at 9.30pm.
Tags: