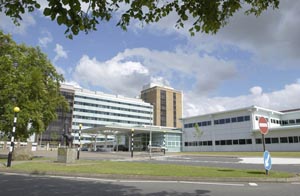 The Western Health Trust has launched Travel Plans aimed at reducing traffic congestion at Altnagelvin Hospital in Derry and the South West Acute Hospital in Enniskillen.
The initiative, being introduced in conjunction with the Department for Regional Development (DRD) Travelwise NI and Translink, is also aimed at encouraging sustainable or "green" travel.
Speaking at the launch of the Travel Plans, Teresa Molloy, Western Trust Director of Performance and Service Improvement, said due to huge volumes of traffic generated around both hospital sites due to staff and visitor traffic, the Trust, in partnership with DRD Travelwise NI and Translink, wanted to provide "affordable, realistic" travel options for visitors, patients and staff.
She added: "Using sustainable travel will reduce congestion and demands on parking, improving access for all staff, patients and visitors to the Trust's sites.
"The Travel Plans for both Altnagelvin Hospital and South West Acute Hospital outlines the measures the Trust will be putting in place over a five year plan up to 2019 to reduce individual car journeys to and from the hospitals and to make better use of existing public transport and sustainable travel options."
Will Doran, Western Trust Assistant Director of Facilities Management, said the Trust would be promoting "various" travel options such as  walking, cycling, car sharing and using public transport.
He added: "The Trust will be promoting these travel options and developing them further over the five years of the travel plans."
Tags: