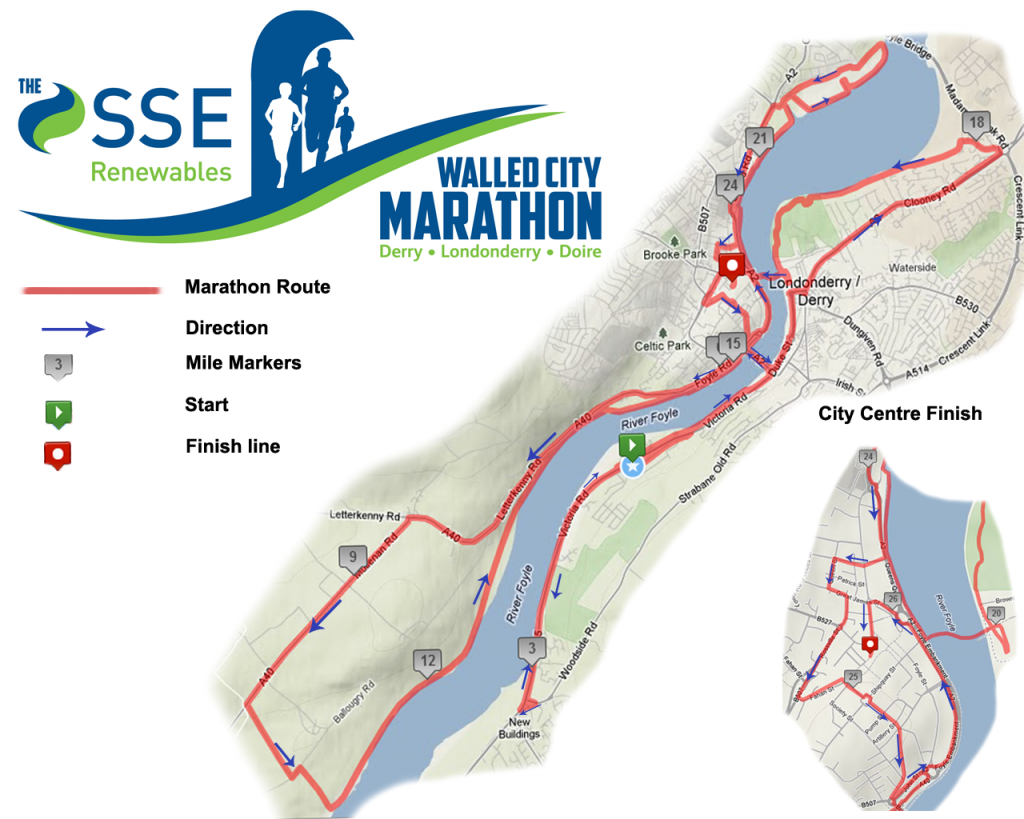 After setting off at 8.30am from the Everglades Hotel at Prehen in the Waterside, the runners will head along Victoria towards Strabane.
On reaching Newbuildings, they will turn back and run towards the city along the Victoria Road as far as Craigavon Bridge.
They then will cross the bridge via its lower deck and on reaching Foyle Road, will turn left and head towards Letterkenny along Foyle Road onto Letterkenny Road going as far as Nixon's Corner.
They will return to the city via  the walk/cycle path known locally as "The Line," then onto the Foyle Embankment before  turning up on to John Street and crossing the upper deck of Craigavon Bridge.
At the Waterside end of the bridge, they will turn onto Limavady Road and run out as far as Waterfoot Park before turning back along the Waterside Greenway walk/cycle path.
On reaching the Peace Bridge, they will cross over to the cityside andrun along the Foyle Embankment towards Culmore.
After circling the Bay Road park, they will return to the city centre along Strand Road turning up on to Clarendon Street and then along Little James Street and Rossville Street.
Then it's the steep climb of Fahan Street, along Butcher Street, around the Diamond and along Ferryquay Street and down Carlisle Road, turning sharp left onto John Street.
After rounding the Foyleside Rounadabout they will proceed along the Foyle Embankment, along Harbour Square and Queen's Quay on to Strand Road, across Waterloo Place to the finish line in Guildhall Square where the first finisher is expected just after 10.45am.
Tags: