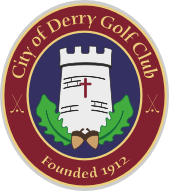 Campbell Jackson was the clear winner of City of Derry's weekly Thursday Open.
The 15-handicapper's superb 43 points included two double and a triple bogey, an eagle and and a birdie.
The eagle was at the par five 11th and Campbell is surely heading for a single figure handicap very soon.
A triple tiebreak on 40 points decided the second, third and fourth places with John Crumlish (5), Kevin Quigg (3) and Dan Hinds (3) finishing in that order respectively.
Kevin also had the best gross and that allowed for a fourth nett prize.
Paul McGuigan (1), from Foyle, was best visitor on the day with 35 points.
Open Week continues at Prehen with The Samaritans Open on tomorrow and the Kelly Fuels Open on Monday.
Tags: