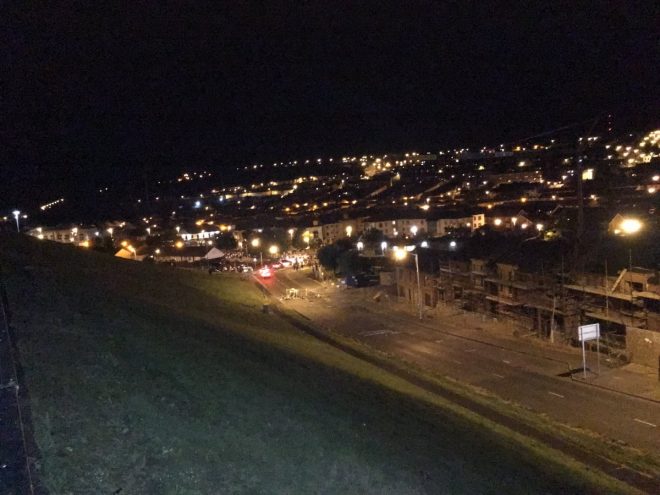 THE people of derry are angry, heartbroken and infuriated by the scenes of violence in the Bogside, the city's MP has said.
Sinn Fein's Elisha McCallion said someone would be killed if the disorder was not stopped.
A total of 74 petrol bombs were thrown at police including a number of improvised explosive devices.
Three men – aged 18, 22 and 50 were arrested by police during the rioting as youths lit makeshift barricades in the Bogside.
The 22-year-old was arrested suspicion of attempted murder, say police.
The Foyle MP said: "People are absolutely infuriated that this has come upon our city, people are quite rightly angry and a lot of people are heartbroken to see this being bestowed upon our city," she said.
"People are very vocally saying not in their name."
Chief Constable George Hamilton has praised the courage of his officers over the past number of night.
He said he has visited Derry during which over 400 police officers had been deployed in the city to quell the violence.
"It is very sad for me that we have been through six nights of disorder.
"Last night in particular there were very large numbers involved. There were explosive devices thrown at police officers and there were lots of petrol bombs thrown.
"I am very proud of my officers who have acted with great restraint and great courage. I have been speaking to a number of them and they are an inspiration.
"Also, the community don't want to be putting up with this. Residents in the Bogside living in fear of their windows coming in or their cars being damaged and riots on their streets.
"We want to protect those people. We want to work with them and I condemn outright all those involved in this rioting.
"There is growing support right across the political divisions, from political parties and church leaders condemning this violence and using whatever influence they can bring to bear for it to stop,"
The five main political parties in the North of Ireland united earlier in the week to put out a joint statement condemning the rioting.
They were again forthright in their criticism on Friday in the aftermath of the sixth night of disturbances.
DUP leader Arlene Foster tweeted: "Really disturbing scenes last night in Derry. Someone will be killed if this continues.
"The main Party Leaders have jointly called for rioting to end. The police are risking life & limb trying to tackle this. All violence must be condemned."
SDLP leader and Foyle MLA Colum Eastwood said the people of Derry refused to be "dragged back".
"I don't know what any of this achieves, all it does is destroy our own community and send out a terrible signal to the world," he said.
"But it's not the right signal – the people of Derry are moving on, they have moved on."
Ulster Unionist MLA Doug Beattie said the violence was orchestrated by "cowards hiding in the shadows".
"What we have had from day one – in fact from a number of weeks previously – is orchestrated rioting by violent republicans in order to create a reaction from the police to justify their actions," he said.
"It is quite deliberate and it is straight out of the republican terror manual, where grown men coerce children to do their vile dirty work for them.
Mr Beattie said those orchestrating the violence had to be targeted by the police and justice system.
"These so-called brave men and women sitting at home or in the pubs drinking, hide in the shadows, while children destroy the reputation of the city and those that live in it," he said.
Alliance Party leader Naomi Long said: "It is clearly a deliberate attempt by dissident republicans to intimidate a minority, raise sectarian tensions and recruit a new generation of young people to their activities.
"With worrying reports of children as young as eight years old taking part, it is nothing short of child abuse.
"It exposes those orchestrating the violence for what they are: mindless thugs who care nothing for the local community and are willing to put children at risk of injury or worse."
Tags: