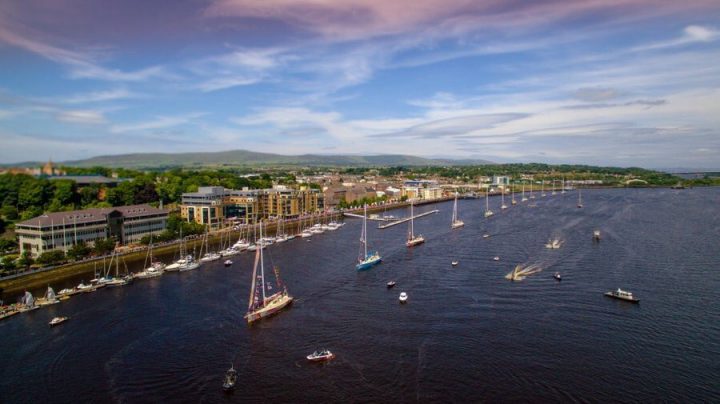 DERRY'S waterfront will be teeming with activity this weekend as the Foyle Maritime Festival gets underway, with over 180,000 people expected to enjoy the packed programme of family fun and entertainment kicking off today Saturday, July 14.
If there's one thing you won't have to worry about – it will be finding something to eat, as the quayside is transformed into one giant open air food extravaganza showcasing the flavours of the Foyle in all their glory.
On July 14th and Sunday July 15th, the Seafood Kitchen will be turning up the heat along the quay, with a range of local chefs showcasing their skills.
They will be joined by top Edinburgh chef Tony Singh, a regular favourite on TV shows such as Saturday Kitchen, who is renowned for his eclectic and accessible cooking style. Derry's own poster boy for good food Ian Orr will also be serving up some mouth-watering dishes using the very best local ingredients down on the waterfront.
The Seafood Kitchen is located along the Queen's Quay beside the Maritime Markets which will be buzzing throughout the week, with food stalls, crafts and gifts for all.
But the Maritime theme is already helping build an appetite for the festival throughout the city with local restaurants jumping on board the Flavours of the Foyle Seafood Trail.
23 participating restaurants will be celebrating seafood this week with a cornucopia of fishy delights on offer including Lough Foyle oysters, Mulroy Bay mussels and delicious seafood wood fired pizzas.
Speaking ahead of the event, Festivals and Events Manager with Derry City and Strabane District Council, Jacqueline Whoriskey, said that work is well underway in setting up for the weekend's festivities.
"Our teams have been working hard to complete the work on site which will transform the Quayside into a huge outdoor market and food emporium for the nine days of the festival.
"We will have an extended space this year to facilitate all the activity along the Queen's Quay walkway, making it more accessible and open for everyone.
"It's fantastic to see that the nautical theme has captured the imagination of our local restaurants and businesses, with the Seafood Trail bringing some maritime magic to venues throughout the city.
"It's great that our businesses are seeing the benefits of what is such a wonderful showcase event for the city, with a huge international audience following all the action of the Clipper Round the World Yacht Race adding to the profile of the event. We look forward to seeing everyone down on the Quay for a festival feast to remember."
The Foyle Maritime Festival is supported by Tourism Northern Ireland, Foyle Port, Loughs Agency, Diageo, and DuPont Kevlar.
For more information on the Seafood Trail and other nautical offers available during the festival go to www.explorederry.events
For more information on the full programme including the Seafood Kitchen and Maritime Markets go to foylemaritime.com #FMF18 #flavoursofthefoyle
Tags: