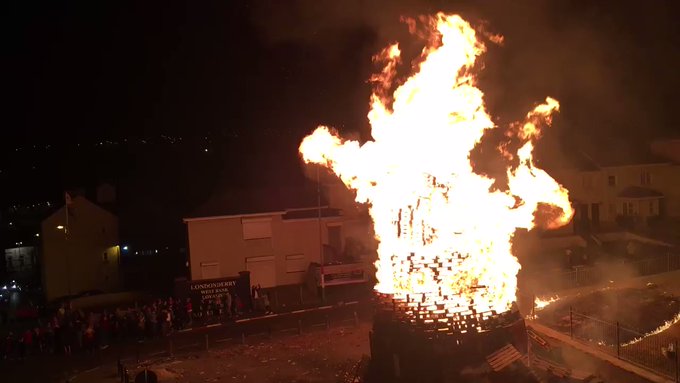 FIREFIGHTERS have been attacked during a further night of violence in Derry.
During a fifth consecutive night of disorder, the violence was reduced compared to the previous four nights and there were no shots aimed a police officers.
Police closed the city walls to the public after petrol bombs were thrown from the Bogside.
Some small fires also disrupted traffic on the nearby Lecky Road.
Petrol bombs also thrown at the police and a fire engine in the Collon Lane area of Carnhill.
In the Fountain estate, the national flags of Ireland and Palestine, as well as a Che Guevara flag were burned on a community bonfire when it was lit at midnight.
The Fire and Rescue Service said it had received 327 emergency calls between 10 pm and 1 am sent crews to 164 incidents, 57 of which were bonfire related.
It said between 10 pm and midnight there was a 999 call every 48 seconds.
"The most significant bonfire related incidents attended by NIFRS were in mid Ulster, Belfast, north Down and Causeway Coast and Glens," it said.
"Unfortunately during the evening there were three attacks on fire appliances in the Carnhill area of Derry.
"Thankfully no firefighters were injured however damage was caused to an appliance."
Tags: