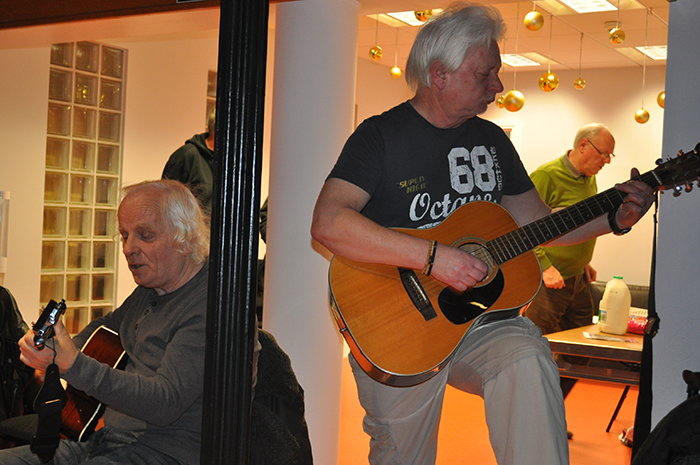 BACK by popular demand, a group of men young at heart – some ex-musicians, some still musicians, some who were never musicians – are getting together with further stories and their love of popular songs to perform at the Playhouse in Derry on Friday 25th

 May.
If you have been around the Foyle Street Library, the Tower Museum or Craft Village on Tuesday afternoons over the past six months you couldn't help but notice the large number of men on a mission with their guitars!
This has been a men only developmental music project offering an opportunity for individuals to improve their music skills and enjoy some male company or 'craic' with their peers – as well as gain confidence to accompany fellow musicians.
After a hugely successful 'On the Road Again' performance at the beginning of 2018 in the Playhouse, the men will now be performing their second show 'The Next Time I'm in Town'. Indeed, the January performance was very well received and the new one will be dotted with stories from the golden era of the showbands – taking the audience on a wonderful trip down memory lane and offering sketches with a local blend of humour and audience participation with some old favourites.
Thirty or so local guys have being working on the music pieces of interest to them under the tutorship of professional musicians Mickey Joe Harte, Terry McCafferty and Ronan Doherty.
"Many of the guys have been engaging in the arts for the first time and is their first forte into the world of performance through the 'Music to your Ears' project.
While some of the men were beginners or amateur musicians, for others it has been about polishing or honing their skills and remembering tunes from the 60's, 70s and 80's.
Around this music, they have developed a story to link their song choices to local history and what was important to them as lads growing up.  So the men are 'in town' again and they haven't forgotten how to perform for the crowds!
This Derry City and Strabane District Council project is part of the Arts for the Third Age Project and has received support through the lead partner Arts Council of Northern Ireland under their Arts and Older Peoples Programme – which is jointly funded by Arts Council of Northern Ireland, the National Lottery, the Public Health Agency and the Baring Foundation.
The Inner City Trust also provided venue support to the project.
Mayor of Derry City and Strabane District Council, Cllr Maolíosa McHugh met up with the men at a rehearsal in the Tower Museum earlier this year to show his support for the 'Music to Your Ears' project – and even joined in by playing the harmonica!
He said: "I was really delighted to attend a rehearsal in the Tower Museum earlier this year and experience first-hand the joy that this initiative has given the guys.
"'Music to your Ears' really is an inspirational project which encourages men to engage in the arts regardless of their previous experience and helps promote better mental health and wellbeing.
"Indeed, many 'older' men throughout the city and district – not just those who are retired – are at risk of social isolation.
"It is therefore wonderful to see the men greatly benefitting from this initiative – and that the informal, supportive environment has helped them combat a tendency towards isolation – whether as a result of the loss of a partner, family moving away or the weight of caring for loved ones.
"Music really does have an amazing power to unite – and can reach, touch and inspire people of all ages.  It is therefore great to see the men are continuing to work towards a shared goal – and also sharing their fantastic talents on stage!
"I would like to take this opportunity to pay tribute to the Arts Council NI for funding the 'Music to your Ears' project in Derry and Strabane for a third time.
"Indeed, the ongoing security of funding through their Arts and Older Peoples Programme has allowed this fantastic initiative to gain momentum and thrive as a vital resource for the men involved."
Roisin McDonough Chief Executive of the Arts Council of Northern Ireland said:
"Engagement in the arts is one way to reduce the very real issue of isolation of older people in our communities, particularly men.
"Not only does participation provide a platform to express identity and explore new talents, it also offers a way to meet people and have new experiences. It offers a voice for older people."
Mayor McHugh added that following the Tower Museum rehearsal he has no doubts that the men will continue to 'hit the right note' and that a brilliant night is in store for all who will be attending their upcoming performance in the Playhouse.
He also hopes that having got the music making bug the men's involvement will encourage them to keep on playing and maintain the great friendships already created through the 'Music to Your Ears' project.
Tickets for the 'The Next Time I'm in Town' show at 8pm on Friday 25th May are £5 and can be purchased via The Playhouse Box Office 02871 268027 or online at www.derryplayhouse.co.uk/events
For further information on the 'Music to Your Ears' project contact Arts Development officer at Derry City and Strabane District Council Jean Smyth on 02871253253 Ext 4295.
Tags: