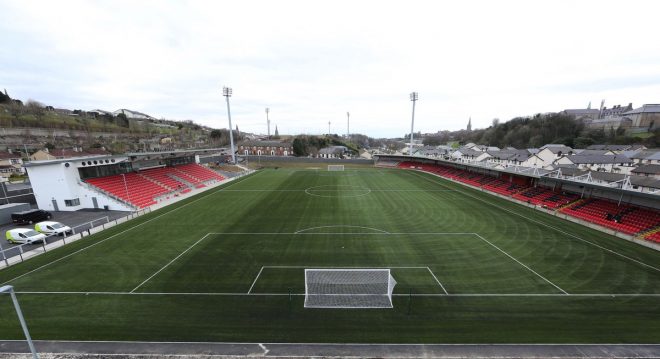 INSTITUTE FC is exploring a ground share with Derry City if the club gains promotion, according to ts chairman.
The club's Riverside Stadium at Drumahoe was severely damaged by flooding last August.
Institute is currently playing home games at Wilton Park in Londonderry's Waterside.
Chairman Bill Anderson said talks with Brandywell owners Derry City and Strabane District Council were ongoing.
"What we are concentrating on is promotion, this is not an issue if we do not get promoted," he said.
"My job as chairman is to explore all options open to us and it is one we are investigating."
Institute is currently seven points clear at the top of the Championship.
A spokesperson for Derry City and Strabane District Council said it was working with the club regarding "a range of options".
"While it is too early to go into detail, council is hopeful that a new site can be found locally which can adequately accommodate the club and supporters for training purposes and for home games," the spokesperson added.
Should the ground-share option be given the green light, it could see Irish League football played at the ground for the first time in five decades.
In 1972, Derry City was exiled from competition in Northern Ireland when a Ballymena United supporters' bus was burnt on a visit to Brandywell.
Derry City returned to competitive football in 1985 when they were accepted into the League of Ireland in the Republic of Ireland.
Mr Anderson said talks involving the council, PSNI and local community groups were ongoing – as were discussions around other potential home venues for Institute next season.
In November, Mr Anderson told the BBC the club had been informed it would be "very difficult to get flood insurance" for the Riverside Stadium, which sits on the banks of the River Faughan, following last summer's floods.
He said the emergence of Japanese Knotweed – a fast growing noxious plant – on the pitch further had compounded the club's problems.
Derry City returned to action at the newly redeveloped Brandywell on Monday with a 5-0 win over Limerick.
The ground's £7m upgrade includes a new stand, changing rooms and a new synthetic playing surface.
Tags: