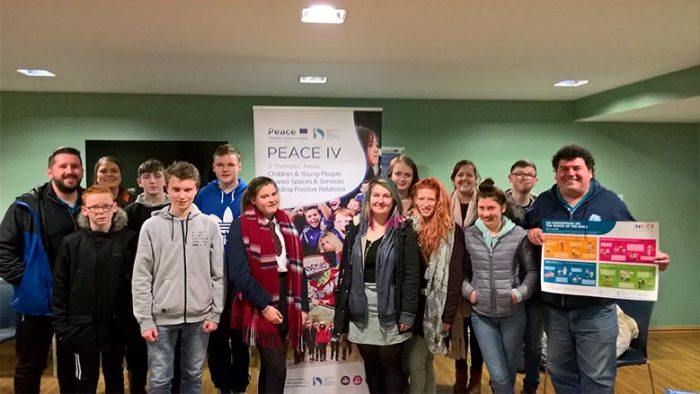 YOUNG people from across the Derry and Strabane District are set to come together to make their voice heard and start shaping what they would like to see in a Derry City and Strabane District Youth Council.
The initiative is part of a project funded by the EU's PEACE IV Programme, managed by the Special EU Programmes Body.
The young people will not only represent the voice of their peers in the District but will take a leading role in promoting diversity, equality and tackling discrimination.
Amber, a pupil from Foyle and Londonderry College said the process so far has been a rewarding one for everyone involved.
"I feel it's very important for young people to have a voice in matters involving them," she said.
"I believe that the programme provides the perfect opportunity for me to give my opinions and connect with other young people who share my views.
"I have built confidence and improved my leadership skills thanks to all the workshops and activities that I have taken part in".
The Derry and Strabane District Youth Council is part of a programme of activities and training for young people in the PEACE IV Children and Young People's Youth Participation and Democracy programme, designed to support peace and reconciliation in Northern Ireland and the border region.
Ryan from St Joseph's Boys School said: "I believe young people should take the opportunity to get involved as our future is being decided for us.
"Taking the chance to speak for ourselves will give us a voice and build confidence and self-worth.
"Each individual has a unique experience which brings an added dimension to talks about peace that other people do not have".
Young people involved have started learning about the democratic process and how Council works.
They are taking a leading role in exploring and shaping what the PEACE IV Derry and Strabane Youth Council would look like and the training and support that young people may need to become more involved in future.
Rossa from St Columb's College added: "To me, the Youth Participation and Democracy element of Peace IV offers my generation something they have never had before, a voice.
"We can learn and understand how our government functions and finally change the future toward something that benefits us all.
"The establishment of a youth council in the Derry/Strabane district will make sure that youth are represented fairly with our issues and struggles being solved by those who understand them first hand, with this programme we can take our future into our own hands and mould it to what best represents us".
The information gathered from those involved will be used to offer a programme of training in 2018 to give young people the skills they need to voice their opinions and become involved in decisions that affect them.
The PEACE IV Youth Participation and Democracy programme has also seen a youth led engagement and launch event delivered in partnership with Dove House, Youth First and the Education Authority.
Young people shaped the content of the sessions and performed at the event, held in the Ourspace building at Waterloo Place.
If you wish to express an interest or find out more about the PEACE IV Derry and Strabane Youth Participation and Democracy programme or you know someone who would like to take part please contact claire.lynch@derrystrabane.com Tel: 02871 253 253 Ext: 8277.
Match funding for the project has been provided by the Executive Office in Northern Ireland and the Department of Rural and Community Development in Ireland.
Tags: