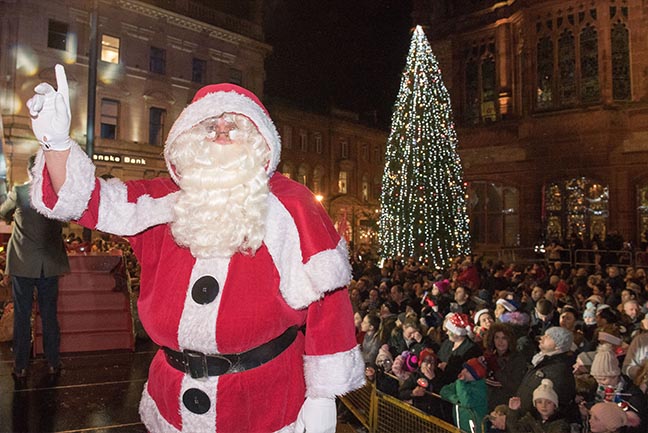 WITH only a few days to go until Christmas Eve, Derry City and Strabane District Council and Northern Ireland Fire & Rescue Service are reminding local householders of the importance of having their chimneys regularly swept.
As well as allowing Santa Claus to make a clean and safe entry into local homes this Christmas, regularly cleaning of chimneys can protect households from chimney fires and the risk of carbon monoxide poisoning, particularly in the winter months where heating appliances and fires are used more frequently.
Head of Health and Community Wellbeing with Derry City and Strabane District Council, Seamus Donaghy, urged local householders to be aware of the need to keep their chimneys clean.
"Having your chimney swept regularly not only removes a build-up of soot but also clears blockages such as nests and loose brickwork which may be obstructing a chimney," he noted.
"Chimney obstructions and blockages can lead to fumes and carbon monoxide entering rooms and it is therefore imperative that only suitably trained and competent people undertake this work.
"Carbon monoxide and smoke alarms are vital in every home as they can provide time for people to escape but they should never be used as a substitute for the servicing of heating appliances and the sweeping of chimneys.
"Landlords must ensure that all fires and stoves in properties they let are safe to use and the flues and chimneys serving them should be swept before each new tenancy of the property commences and regularly thereafter."
Mr Donaghy also reminded householders of the considerations they need to make before opening a fire in their home.
"The public should be aware of the dangers of re-opening a fire that has been previously closed off," he noted. "In order for this to be done safely all the necessary safety checks and precautions must be taken and any necessary approvals gained from the Building Control Department of Derry City and Strabane District Council.
"It is also important to remember if you don't own your own home you should gain your landlord's permission."
Group Commander, Fergal Leonard, Prevention & Protection, NIFRS added:
"From 1 December 2016 – 31 January 2017, Firefighters attended 167 accidental house fires, 11 of which were chimney fires.
"At this festive time of year, people are spending more time at home and lighting their fires so they need be aware of the potential risks.
"Chimney fires can be easily prevented by getting chimneys swept a number of times a year depending on the type of chimney and fuel you use, to ensure that they are safe and clean.
"The cost of a chimney sweep is very small when compared to dealing with the damage and cost of repair after a chimney fire, not to mention the potential threat to life if the chimney fire were to spread to the rest of the property.
"All households should have working smoke alarms fitted and they should be tested once a week.
"Make sure you also have a fire escape plan and that everyone in your house knows the quickest means of escape.
"In the event of a chimney fire call 999 immediately and ask for the Fire & Rescue Service."
It is also important to remember that to improve air quality, areas of Strabane, Castlederg and Newtownstewart have been designated as Smoke Control Areas and therefore only authorised smokeless fuels may be used in these areas.
A list of Northern Ireland Association accredited Chimney Sweeps is available on the website https://niacs.co.uk/.
Further information, including Chimney Fire Prevention Tips, is available from the NIFRS Community Information Bulletin at https://www.nifrs.org/wp-content/uploads/2013/05/Chimney-Fire-Prevention.pdf.
Tags: