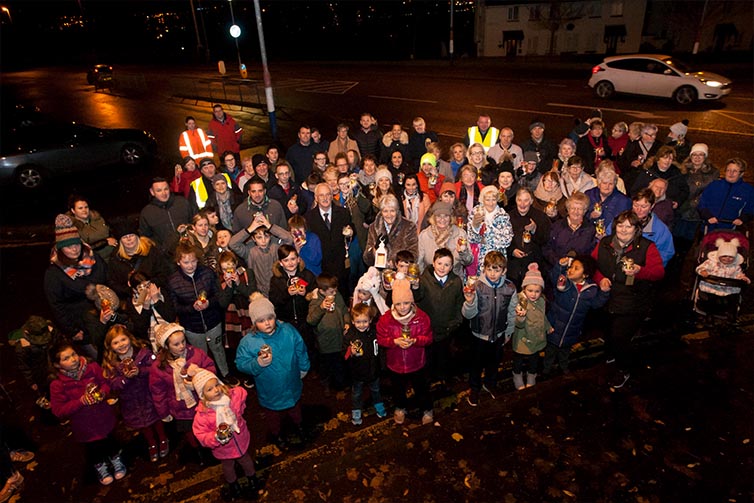 COMMUNITIES from the Top of the Hill and Irish Street communities came together on Tuesday night for a specially arranged cross-interface, cross-community lantern lit procession to launch the Waterside Shared Village Project.
The initiative is managed by the Waterside Neighbourhood Partnership and will deliver a range of cross-community and reconciliation programmes for all ages in the interface area.
It has received £500,000 of funding under the Special EU Programmes Body (SEUPB) and is the largest of the community led projects under Derry City and Strabane District Council's PEACE IV programme.
This week's event saw lantern processions begin in Irish Street and the Top of the Hill before the two groups met at the Shared Future Centre carpark and walked together to a shared Christmas carol service at the local Apostolic Church.
Peace IV Programme Manager at Derry City and Strabane District Council, Sue Divin, explained that the project will deliver a range of programmes aimed at building a closer relationship between the two communities.
"The Waterside Shared Village Project is one of 22 headline projects that have secured SEUPB funding through Council's PEACE IV programme," she explained.
"The programme was designed after a detailed consultation process and I would like to thank everyone who participated in that – it has helped us to secure this reconciliation based funding which we anticipate making a big difference to local residents.
"This project will deliver a range of cross-community programmes for all ages including sports programmes, after-schools clubs, summer schemes, youth programmes, early years programmes, and a series of festivals."
A spokesperson for the Waterside Neighbourhood Partnership who co-ordinated the event added: "We are delighted to launch the Waterside shared village project and would like to thank everyone for attending the event and making it such a wonderful occasion.
"We have a huge programme of activities planned over the next 3 years and we are excited to work together to make it a really interesting exciting project for all of our community.
"Our football, basketball and youth programmes all start in January and we will be recruiting for people to participate as well as volunteers to help us roll this into our community and have a good positive project that everyone can enjoy.
"If anyone is interested in getting involved just contact Waterside Neighbourhood Partnership."
Tags: