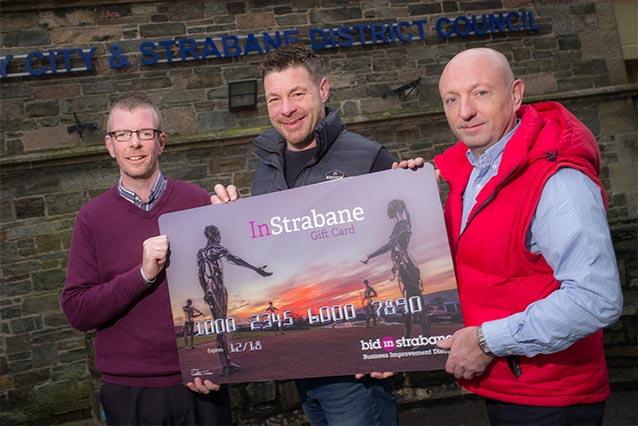 SHOPPERS in Strabane are being encouraged to support local businesses this Christmas by purchasing the In Strabane Gift Card.
The In Strabane Gift Card is the brainchild of the Strabane BID Company who have been lobbying businesses in the town over the past number of weeks to get them to sign up to the scheme aimed at encouraging shoppers to shop local and help promote Strabane's unique retail offering, and help give a much needed boost to independent traders in the run up to and over the festive season.
Catherine Collins, Business Improvement District (BID) Officer says the In Strabane Gift Card is a fantastic Christmas gift idea and a great way for local people to support their local traders.
She said: "Strabane is really leading the way in terms of retail innovation and is the first town in Northern Ireland to introduce its own branded gift card. It is a fantastic way of keeping more money in the local economy and encouraging people to shop local and support their local traders.
"We are delighted with the response we have received from retailers to date and have 80 businesses already signed up, with more coming on board every day.
"We hope that we can really build on the goodwill that exists here in Strabane and that shoppers will really get behind the idea and use the In Strabane Gift Card over the festive season and all year round to support local businesses."
Local businessman and Chair of Strabane BID, Michael Kelly explained that all costs associated with signing up to the Gift Card are met by the BID programme and that any traders not yet signed up should do so.
"The In Strabane Gift Card scheme puts independent traders who don't have their own card on the same level as chain stores or larger retail outlets and for those who already have their own gift card it adds to their existing customer base.
"It's a great way of businesses supporting each other and local people buying local and keeping Strabane money in Strabane.
"The cards can be purchased and used all year round but are especially convenient at Christmas time," he said.
Each participating shop will display the In Strabane Gift Card Accepted Here sign in their shop window or counter. For a full list of participating businesses click on www.instrabanegiftcard.com
The 'In Strabane' cards can be purchased online at www.instrabanegiftcard.com as well as outlets in the town including Café Fresco, Supervalu and the Alley Theatre.
The scheme is very user friendly and people can check their balance and see a list of participating retailers on the website.
In the run up to Christmas a series of competitions and giveaways are being organised to help promote the initiative – for regular updates on these follow on Facebook and Twitter https://www.facebook.com/BIDInStrabane/
https://twitter.com/In_Strabane
Tags: